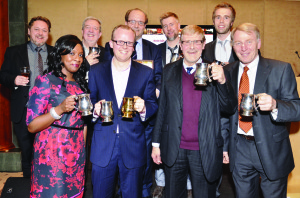 New Award to foster young writing talent
The British Guild of Beer Writers has launched its annual competition for beer writing, with the addition this year of a new award for the Best Young Beer Writer, designed to foster new writing about our national drink.
The awards now include eight categories with a total prize fund of £9,500 for winners and runners up. All entries will be judged on how well they further the Guild's mission "to extend public knowledge and appreciation of beer and pubs".
The competition is open not just to writers, but to radio and television broadcasters, photographers, illustrators, designers – in fact, to anyone who communicates about beer or pubs.  Books, national or regional press articles, websites, films, blogs, in-house or customer magazines and podcasts can all be submitted, either by the creator or on their behalf by a publisher, associate or admirer.
Guild chairman Tim Hampson said, "Our annual awards have grown in stature over the years to the point where they are now coveted for their kudos more than the cheque that comes with them, and our awards presentation dinner is one of the most eagerly anticipated events on the drinks industry's pre-Christmas calendar.
"We look forward to receiving, once again, a diverse range of entries that reflect the enthusiasm, expertise and professional talent of those who communicate about beer and pubs.
"We are particularly pleased to be launching a new award for young writers, which we hope will encourage more budding beer communicators to enter, by giving them a space where they are not competing against some of the eminent writers in other categories."
Judging this year's entries is a panel including Will Dean, editor of the Independent magazine and Natalie Whittle, associate editor, FT Magazine. Chair of judges is Will Hawkes, current Beer Writer of the Year.
The category winners and runners-up will be unveiled at an Awards presentation dinner in December, as well as the overall Beer Writer of the Year, who receives the Michael Jackson Gold Tankard Award*. The Guild also bestows the 'Brewer of the Year' title on one brewer at the same event.
Entries and nominations are invited for eight categories:
Molson Coors Award for Best Beer Writer – National Media. Prize of £1,000 for winner and £500 for runner-up
Adnams Award for Best Beer Writer –  Regional Media.  Prize £1,000 and £500
Fuller's ESB Award for Best Beer Writer –  Trade Media. Prize £1,000 and £500
Brains SA Gold Award for Best Beer Communicator – Online. Prize £1,000 and £500
Greene King IPA Award for Best Beer and Travel Writer. Prize £1,000 and £500
Shepherd Neame 1698 Award for Best Beer and Food Writer. Prize £1,000 and £500
Thwaites Award for Best Beer Writer – Corporate Communications. Prize trophy to the winner
British Guild of Beer Writers Award for Best Young Beer Writer – one prize of £500
Winners to be announced at London beer and food dinner
The winners will be announced at the British Guild of Beer Writers annual awards dinner, to be held on Thursday 4 December in central London. The hotel chef, with advice from beer and food matching experts within the Guild, will create a menu to delight and challenge the 200+ guests expected to attend.
How to enter
Full details of all eight categories in the Awards, and how to enter, can be found on the British Guild of Beer Writers website:  http://www2.beerguild.co.uk/?page_id=2162
Entries must be received by the closing date of Friday 5 September, and must have been published between 1 September 2013 and 31 August 2014.
*Michael Jackson (1942 – 2007) who was also known as the beer hunter, dedicated more than 30 years to discovering, recording and then sharing the world's finest beers in his many books, articles and TV programmes. He was the first Chairman of the British Guild of Beer Writers
Caption to attached image: Pete Brown (back row, far left), chair of judges for the 2013 Awards with the winners (back row, l-r): Martyn Cornell; David Wilson; Richard Taylor; Mark Dredge (front row l-r): Marverine Cole; Will Hawkes, Beer Writer of the Year; Roger Protz and Derek Prentice, Brewer of the Year