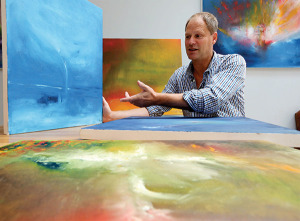 Sebastian Adams combines his interest in art, energy and the power of the mind in what he has termed EmotionScapes – the art of intention. They combine the evocative power of art with the power of intention to create paintings that are beautiful and that help clients manifest a specific feeling, outcome or an expression of their values.
We all know how important space and colour are in providing ambience. What so many seem unaware of is how important artwork can be in creating impact. It has the potential to shape our emotions and tap into our subconscious emotional drivers. Art speaks to us as humans – it's in our DNA , its how we have passed on knowledge and culture through the millennia.
There is a lot of groundbreaking research going on about the power of intention. When we look at the quantum space ie the building blocks of physical reality we can see that conciousness has a direct effect on bringing something physical into existence. At a human level we can extrapolate it to mean 'you get what you focus on'.
Seb is also co founder of Trailblazers Coaching and Consulting and author of The Suited Hippy and The Stress Junkie.
If you would like to out more about EmotionScapes or would like to book a consultation email seb@thetrailblazers.co.uk or visit emotionscapes.co.uk