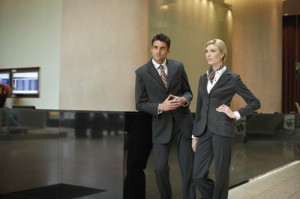 Jermyn Street Design is a multi-award winning uniform design company based in London.
One of JSD's many prestigious clients is Intercontinental Hotel Group (IHG), who used their brand-building expertise to launch the first ever branded uniforms for Holiday Inn and Crowne Plaza hotels across Europe, the Middle East and Africa.
JSD adopted a unique approach for the IHG uniform. A team of designers and project managers travelled across Europe, the Middle East and Africa attending staff focus groups, hosting international catwalk shows and brand forums to ensure maximum buy-in from all franchisees. Six hundred attendees cast their votes at a Jermyn Street Design hosted international fashion show to decide on the final new look.
The IHG project presented JSD with a complicated set of challenges in order to meet the unique combination of brand, purchasing, marketing, budgetary and HR demands. The uniforms had to comply with the demands of a wide range of employee sizes, widely varying climates and cultures, and rigorous wearer trials were conducted to test the uniforms in all working conditions.
JSD works in partnership with IHG to provide corporate uniform marketing and design consultancy, manufacturing, customer support, warehousing and distribution. The uniforms are now worn by 15,000 IHG employees at 270 Holiday Inns and Crowne Plaza Hotels in 17 countries.
For further information, visit www.jsd.co.uk