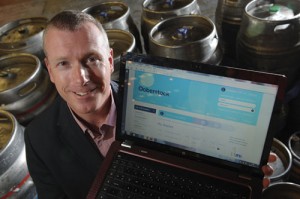 Ooberstock, the 'intelligent wholesale' business launched earlier this year, has announced new listings from some of the world's biggest spirits companies, in the firm's latest step towards revolutionising drinks distribution.
Spirits brands from Pernod Ricard, Bacardi Brown Forman Brands, First Drinks Brands, Maxxium UK, Global Brands, Whyte & Mackay and Oval Vodka are now available through Ooberstock. The new offering is a significant development for the company which now lists an extensive range of spirits, beers, craft ales, soft drinks and wine.
Arran Heal, managing director of Ooberstock, said: "Spirits are an important, high profit-margin product for our customers so we are delighted to be offering an extensive range from some of the industry's major players in this arena.
"Feedback from early adopters has been extremely positive as customers are enjoying the flexibility of the service and extent of choice available. The addition of such a strong spirits portfolio really takes us to the next level, and by the end of summer we plan to extend choice further by bringing on niche suppliers including speciality spirits, wines, world beers, ciders, and premium soft drinks."
The 'intelligent wholesale' company, which is aiming to shake-up the out-dated "bricks and mortar" wholesale channels by offering a lower-cost, more efficient alternative for drinks supply, has already attracted more than 4,000 registered customers from pubs, bars, clubs and hotels.
The spirits brands, including Hendrick's Gin, Highland Park whisky, Bacardi rum and Oval Vodka, will complement an already extensive list of products from major drinks companies including Heineken UK, Coca-Cola Enterprises, Britvic Soft Drinks and Bibendum Wine. In June, Ooberstock announced a ground-breaking partnership with SIBA (Society of Independent Brewers) to give independent pubs and bars across the UK unprecedented access to craft beers. The partnership gives freehold pubs, bars and restaurants access to a range of quality beers from participating local brewers around the UK.
For more information, call 0844 493 00 00, visit ooberstock.com or email enquiries@ooberstock.com