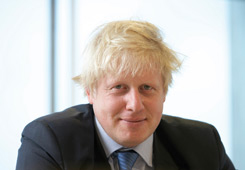 Restaurants, pubs & hotels are being invited to save thousands of pounds and massively cut the amount of food they waste, under a free scheme supported by the Mayor Boris Johnson. The Food Save scheme has already helped 15 of the capital's small food businesses save more than £100,000 a year and prevent a staggering 70 tonnes  of food – the equivalent  of 550 large loaves of bread – going to waste.
One of the businesses, The Imperial, in south west London, is on track to save £10,000 and prevent almost one tonne of food waste a year by offering different portion sizes, measuring out sides in cups, and using leftover food for their soup of the day and special menu items.
Research by WRAP indicates that more than 1.3 billion meals are wasted annually in UK's hospitality and food service sector. FoodSave helps small businesses to stop throwing profits down the drain, with results from the first 15 businesses taking part showing average annual savings of over £6,000 in direct food costs and a reduction of 1.6 tonnes of actual food waste, equivalent to two dozen 180 litre bins. Two of the business are predicted to save over £10,000, with one expected to save a huge £24,000.
Due to this success, over 200 more small food businesses are invited to apply for the free scheme. The project is funded by the Mayor of London, European Regional Development Fund and London Waste and Recycling Board and being delivered by the Sustainable Restaurant Association (SRA) and Sustain.
Kate MacWhirter, Director of The Imperial, said: "FoodSave has been an eye-opener and has really helped us identify precisely the areas where we were wasting food and enabled us to come up with solutions. We've changed the size of and ingredients for certain dishes and have created daily delicious specials with food that would historically have gone to waste. The amount we are saving is enough to help pay for another member of staff, which is fantastic."
The Sustainable Restaurant Association team work with technology partner Winnow to run detailed food waste audits for restaurants, hotels, pubs, quick service restaurants and canteens to analyse the food waste being they produce. The Winnow system measures the real time weight and cost of food waste across different food waste types (spoilage, preparation and customer plate waste). The SRA then works with the catering teams to find ways of reducing food waste and tracking this over time.
WRAP estimates that the average annual cost of food waste for hospitality and food service outlets is £10,000 and that three quarters of food wasted in the sector could have been eaten.
Food Save works with small restaurants, canteens, hotels, pubs, quick-service food outlets,  street-food vendors, food manufacturers, food retailers and wholesalers.  For more information or to get involved, email foodsave@thesra.org or call 020 7479 4224.