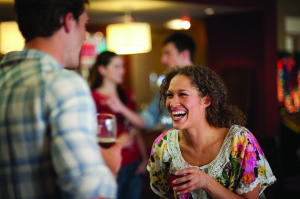 Despite the rise of online dating, a new study has revealed that you are more likely to meet someone special down the pub.
New research reveals that more than half of us (51%) have dated someone we met in a pub, bar or club, and more than two thirds (69%) had a serious relationship with that person, with 36% of those relationships resulting in marriage.
The study revealed that more than a quarter of us (26%) are currently dating someone we met at a pub, bar or club, making it the most popular place to meet. This was followed by 22% who met at work and just 12% who met online.
Almost half of us (41%) have a family member or close friend who met their partner in a pub or bar.
The research was commissioned by pub retailer Greene King to mark the launch of Love Inn Day, a new day championing a return to a back to basics approach of meeting people in pubs. Greene King will hold a series of free dating events in its pubs up and down the country on Love Inn Day, Thursday 15 May.
Mark Blythman from Greene King commented: "There is a lot to be said for dating down the pub, as proven by this study, with so many people meeting their significant other this way. Pubs can be comfortable, welcoming and friendly, ideal for meeting other like-minded real people."
Researchers in Sweden in 2012 found that too much time online can lead to stress and poor mental health(1) and last year a study of 15,000 Britons sexual habits revealed that social media is distracting us from having sex.(2) The campaign urges online daters to switch off for a day and start conversations at the bar instead.
A study into social trends at the pub revealed that many pub-goers relished the experience of going into new pubs to meet new people or engaging with new people in their local pub. (3)
Mark continued: "It is time to get back to basics, stop hiding behind our screens and find love at the local."
Visit www.findaproperpub.co.uk to find your nearest Greene King pub.