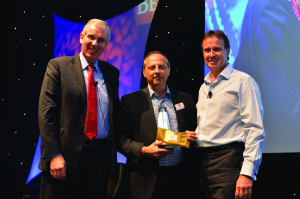 Punch Taverns is delighted to name John Vassallo, Partnership Development Manager for North London, as its Operator of the Year.
The judging process began earlier this year when nominations for Punch's stand out operators were put forward.
Fifteen regional finalists were announced and members of Punch's Operating Board then travelled the country, spending time out in trade with each finalist to judge first-hand how these Operators help licensees to develop the best businesses.
After a spending a day in trade with each of the finalists, Punch's Chief Operating Office Neil Griffiths explains how he reached his decision to name the overall winner as John Vassallo.
"John is absolutely dedicated and genuinely one of the most professional operators that I've ever met.  He commands huge respect from all of his licensees as a result of supporting them in driving and developing their businesses," explains Neil.
"John has built huge trust with his licensees through consistent delivery of all his actions and promises and clearly deals with people in a way that he would wish to be dealt with himself."
"All of the finalists were outstanding but what really struck me about John was the respect he showed for his colleagues at our head office."
John, who has worked in the industry for over 40 years, was announced as the winner at Punch's annual Company Conference on 9th September at St George's Park in Burton on Trent.
He began his career as a stock taker for the brewer Watneys in 1968 before joining Charrington in 1979 (which went on to become Bass Charrington and then Bass).
John spent 15 years in a range of Area Manager roles in managed houses, including Vintage Inns, before moving on to take a up the role of Resourcing and Training Officer at Bass in 1993.
He moved to join the Bass Lease Company in 1995 and has been with Punch Taverns since it acquired Bass Lease in 1997.
John said: "There is no magic about the way I do business. We are in the people business and, establishing and maintaining a sound and credible business relationship with our licensees, in my view, is the foundation to success.
For me, it is all about putting our licensees first and treating them in the way that I would expect to be treated.
I have been very fortunate to have worked with great licensees and to have had the support of a strong team around me, without which, a lot of what I have achieved would not have been possible."
"I'm delighted and surprised to win the award, especially knowing that there are very many excellent operators within Punch and not least the ultimate finalists."
Neil added: "Whilst John is clearly a top performer and delivers on all of his KPIs, it is also about the way he does things that makes such a difference.  I can't praise him enough for the trust he builds, the respect he shows and the strong relationships he has developed as a result."
Issued by the Punch Taverns Press Office.  For further information please contact Jo Navin on 01283 523549 or email jo.navin@punchtaverns.com