Roots Hand Cooked Vegetable Crisps are a delicious new delicacy, which are perfect for snacking, sharing, dipping and garnishing.
The crisps are made by Huntapac, a leading grower and supplier of vegetables, using carrots, parsnips and beetroot grown in Lancashire and across the UK.
Thinly sliced and hand cooked in pure sunflower oil and lightly seasoned with sea salt, the crisps feature a crunchy texture and are the perfect accompaniment to any lunch or can be enjoyed as a bar snack.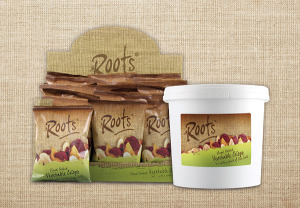 No artificial colourings, flavourings, preservatives or other additives are used and the crisps are suitable for both vegetarians and vegans.
Roots' are exclusively available at Booker in 40g bags (boxes of 18) at a wholesale sale price (WSP) of £7.85 per case, and in 600g tubs designed for foodservice operators at selected Booker branches and foodservice distributors.
For more information contact 01772 280 600, visit Rootscrisps.co.uk, follow on Twitter @rootscrisps and on Facebook Facebook.com/rootscrisps.