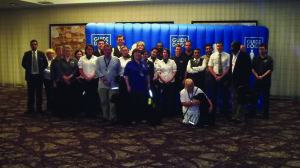 The team at Holiday Inn Stratford-upon-Avon gained a unique perspective on the day to day experiences of those living with sight loss, during a training event with Guide Dogs.
The event, which took place at the hotel, came as part of its ongoing commitment to support the work of Guide Dogs as well as develop the team's understanding of the Equality Act 2010 requirements.
90 team members attended the training sessions over two days, where they were invited to enter a sensory tunnel wearing a blindfold.  The tunnel simulates a variety of tactile surfaces as well as noises such as traffic and car horns in order to provide an authentic representation of what life is like to be visually impaired.
Becci Middel, Reservation Sales Agent spoke of her experience in the tunnel: "It was great having the charity visit for a session like this as it meant that we were able to support their work on a practical level as well as on a fundraising basis".
"On the day, I was nervous just to put on the blindfold, let alone walking through the tunnel in the dark, not knowing what was coming. It was enlightening to be able to experience just how hard it is to lose your sight. It is very un-nerving and makes you feel very vulnerable. It gave us a taste of how hard it would be to experience that every day, but also gave us an insight into how we can best serve our guests that are suffering from sight loss."
The training sessions also involved seminars with Guide Dogs on best practise for accommodating the needs of a blind or partially-sighted guest as well as the opportunity to learn more about the role of guide dogs.
Jackie Elshaw, the My Guide Ambassador at Guide Dogs added: "We are delighted to be working with the team at the Holiday Inn Stratford-upon-Avon and they are immensely supportive of the work that we do. Their enthusiasm and commitment to providing the very best service to all guests is abundantly clear which made delivering the training to them an absolute pleasure".
The team at Holiday Inn Stratford-upon-Avon are currently campaigning to raise £5000 for the Guide Dogs Shakespeare Puppy Appeal, the sum needed to name its own Guide Dog puppy.