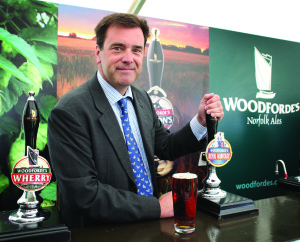 Woodforde's Norfolk Ales is delighted to have received one of the industry's finest accolades; Brewery of the Year from The Good Pub Guide 2015
Woodforde's, which has been brewing beers for more than 30 years, has won a number of prestigious awards for individual beers such as Nelson's Revenge and Wherry, but this is the first time it has been crowned Brewery of the Year – an award which is based completely on reader feedback.
Beating off competition from a host of well-known breweries all over the UK, Rupert Farquharson, managing director of Woodforde's comments:
"We are delighted to have won this important award. It is particularly rewarding because it's a result of nominations from beer lovers across the county and recognises our passion for brewing great beer that people actually want to drink."
Fiona Stapley, Editor for The Good Pub Guide, states:
"Our readers love their ales and we get lots of warm praise for a great many beers, but the Woodforde's ales receive special mention. It's clear that their beers are incredibly popular. The fact that they have their own bore hole and use local barley and quite an array of local hops just adds to their credentials – especially at a time when public demand is for local produce. And their tap pub next door, the Fur & Feather keeps their full range of beers so notably well, is quite charming and again, our readers love it."
The Good Pub Guide is a national institution – a bible for pub-goers. Now in its 33rd edition, it is the UK's No.1 bestselling guide. With regular feedback from over 2,000 loyal and eagle-eyes correspondents who looks for real warmth and quality in service, it is the pub-goers' recommendations, backed up by editor inspections, that determines who's in and who's out year on year.
For more information about Woodforde's Norfolk Ales, visit www.woodfordes.co.uk
For all social media activity surrounding Woodforde's winning the accolade use #wherrybest