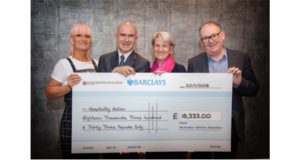 A total of £37,000 was raised for various charities, following this year's Manchester Hoteliers' Association Awards and Ball.
The funds were handed over at the Doubletree Hilton to the selected charities, including Breast Cancer Care, Mustard Tree, The Christie and Hospitality Action.
Hospitality Action were credited with 50% of the donations – a total of £18,333. The rest of funds were divided equally between the three remaining charities – each of them receiving a total of £6,111.
Speaking after the event, Adrian Ellis, Chair of MHA said: "This year's MHA Ball hit a record number, with 609 people in attendance, which is a huge achievement in itself. Not to mention the record amount of money raised, totalling 37K and surpassing our target.
"Half of the donations will be going towards Hospitality Action, for the great work they have been doing in the sector, with the remaining amount being split between three very worthy local charities.
"It was a truly remarkable evening, that celebrated the talent within Manchester's hospitality offering and we look forward to 2019's event, which will no doubt be even bigger and better.
"I was delighted to present the cheques to the various charities and was proud to be involved with four such incredible causes."
All of the charities were hand selected by a panel, after much deliberation and masses of applications.
Hospitality Action supports retired hospitality workers suffering from life altering illnesses, poverty, bereavement and domestic violence. Breast Cancer Care is a UK charity providing support for people living with and beyond breast cancer. Mustard Tree support people across Greater Manchester in poverty and facing homelessness and The Christie are leading experts in cancer care, research and education, based in Manchester.
Adrian added: "It was amazing to get together, one month on from the Ball and show our appreciation for all the generous donations and sponsorships and all the hard work that went into making this year's event such a huge success."