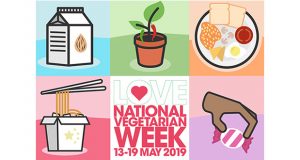 National Vegetarian Week runs from 13-19 May and is a great time to perfect your vegetarian offering and maximise plant-based food sales. The National Vegetarian Week team are encouraging consumers to try '50 veggie things in May'. National Vegetarian Week 2019 offers businesses lots of opportunities to use the '50 things' as a promotional tool and continue the trend everyone is talking about. Find out more at www.nationalvegetarianweek.org
During the week people could try tucking into a veggie full-English breakfast, sharing gelatine-free sweets, doing a dairy-free milk taste-test or choose the tofu dish from the local Chinese takeaway. The 50 brilliant veggie ideas is a great way to promote your products and services. With so much growth in the vegetarian, vegan and meat-free market National Vegetarian Week 2019 is all about celebrating and raising awareness of great vegetarian food and products.
Graham Drummond, from the Vegetarian Society, said: "National Vegetarian Week is a great way for businesses to get extra publicity for their products and services and to get people involved. This year's '50 veggie things' offer some fun ways for you to challenge yourselves and your customers and get some social media interest."
National Vegetarian Week is an established event, organised by the Vegetarian Society, recognised and celebrated by people, celebrities, businesses and organisations across the UK.
The Vegetarian Society is a charity that is passionate about veggie food! They want everyone to know how varied and delicious vegetarian dishes are – and how easy it is to enjoy a veggie lifestyle.