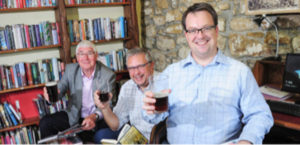 A Cornish Showcase For MPsPub is The Hub, took MPs on a tour to four pubs in Cornwall last week to showcase the organisation's work in providing additional community services in rural or remote areas.
The Chair of the All Party Parliamentary Beer Group, Mike Wood (MP for Dudley South) was accompanied by Steve Double (MP for St Austell and Newquay). They began their day at St Austell Brewery in St Austell where they were welcomed by James Staughton, Chief Executive of the brewery and the Chief Executive for Pub is The Hub, John Longden OBE. They were joined by the regional advisor for the South West, Reg Clarke and Peter Jefferson, Chief Executive of Cornwall Rural Community Charity.
First to be visited was the Farmer's Arms in St Columb Minor run by Karen and Steve Simmons; a pub that has a micro library with Cornwall Council's Library Services and a work club acting as community-based support for local unemployed people.
At the Blue Anchor in Fraddon run by Pam Deaves and Steve Brown the pub runs a local farmers' market each month in their car park providing a valuable outlet for local suppliers as well as a shopping and leisure focus for visitors and local residents.
The group then moved on to the Miner's Arms in Mithian, run by Anouska House and Andy Andreaou, to see their village store tucked into a tiny old store room adjacent to the bar. Here the couple provide essential food and convenience items alongside locally made arts and crafts.
The group then concluded their tour with a visit to the Star Inn at Vogue near St Day meeting Mark and Rachel Graham who run a micro library, a work club, take away food, hairdressers, IT access point and a camping and caravan site.
Mike Wood, MP for Dudley South and Chairman of the All-Party Parliamentary Beer Group, said: "Pubs are a tremendous force for good in the UK. A vital part of our communities. Nothing demonstrates this better than the schemes that Pub is The Hub supports. Today's visit encapsulates the incredible work being done by hard-working pub operators who are taking their time to give so much back to their communities."
Steve Double, MP for St Austell and Newquay and Vice Chairman of the All-Party Parliamentary Beer Group. added: "We've been so impressed to learn about the support, advice, and even financial support given by Pub is The Hub. It's been fantastic to see what a positive impact these imaginative projects have had in my constituency in Cornwall."