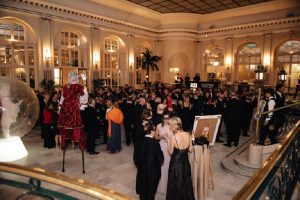 Springboard's yearly fundraiser, themed this year as The Masked Ball, raised a whopping £50,585 for their charitable causes on Monday 18th March, unmasking the hospitality industry's generosity.
The evening played a leading role in Springboard's annual fundraising and year-on-year is always a night to remember. This year's event, with all its Venetian inspired glamour, transported guests back in time to the 15th century, with the assortment of masks around the room certainly contributing to the overall sparkle of the evening.
The evening included drinks, a delicious three course meal including Scottish smoked salmon and a rump of lamb, and entertainment including Venetian-style 'human statues' and aerial performers from Heartburn Entertainment.
All proceeds from the event will help to continue Springboard's programmes, which allow people with barriers to work to gain the skills and confidence needed to access employment within the hospitality industry. Springboard's fundraisers and events include a yearly pantomime, treks across the globe and cycle challenges from London to Paris. The guests at the Ball were lucky enough to hear three of Springboard's most inspiring beneficiaries tell their stories and speak about how Springboard has helped them to turn their lives around.
The event was sponsored by DRPG, The Waldorf Hilton, Diageo, Bibendum, Cawston Press, London Calling, Wenlock Spring, 4degreesC, BidFood, Harvey & Brockless, John Ross Jr., Davin Foods, Fairfax London, Mitchells & Butlers, Quality Standard, Town & Country, Canapes Direct Ltd, Critiquie, Davin Foods, Groupe Le Duff, Harvey & Brockless and La Tua Pasta, all of whom contributed fantastic products and services, and helped the charity to raise funds for vital programmes.
Anne Pierce MBE, Springboard's Chief Executive, used the occasion to remind guests of the charitable motivation behind the glamourous event. She said, "While the nature and theme of this event varies each year, the reasoning behind it always remains the same. This annual occasion is fundamental in raising funds for those who need it the most – the beneficiaries of our programmes who are supported into sustainable and meaningful employment in the hospitality industry"