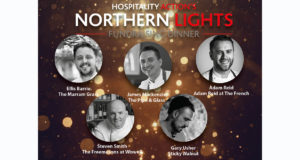 A 'dream team' from the North's finest chefs is to operate the celebrity kitchen for a fundraising dinner at Manchester's five star Lowry Hotel on Monday October 1st
The annual 'Northern Lights' event will start with a cocktail and canapé reception before guests are treated to an 'as good as it gets' five course dinner prepared by five of the region's best award-winning chefs.
The Northern Lights Fundraising Dinner will help contribute to the record sum of money that industry charity Hospitality Action is attempting to raise for those in the industry who have fallen on hard times.
Mark Lewis, Chief Executive of Hospitality Action said: "This year's amazing line-up gives guests a chance to sample the cuisine of five chefs at the top of their game, enjoy a wonderful evening – and then go home with the warm glow that comes from having helped raise funds for people work in hospitality and find themselves in crisis".
The kitchen team:
Starter James Mackenzie The Pipe & Glass
Fish course Ellis Barrie The Marram Grass (Great British Menu Finalist 2017)
Main course Gary Usher and Richard Sharples Sticky Walnut
Cheese Savoury Steven Smith Freemasons at Wiswell
Dessert Adam Reid Adam Reid at The French
Tickets for the Northern Lights Fundraising Dinner are £125 per person or £1,200 for a table of ten – including cocktails and canapés, five course dinner and half a bottle of wine per person.
For tickets – contact Astrid Wears-Taylor on 020 3004 5503 or at astrid@hospitalityaction.org.uk or to find out more – visit www.hospitalityaction.org.uk/events
* * * * * *
Chef Biographies
Ellis Barrie Co-Founder and Executive Chef of The Marram Grass in Anglesey, North Wales
Liverpool-born Ellis Barrie began learning his craft at the age of 12 with junior cookery courses at his local community college. Three years later he was beside Chris Marshall at the two-AA rosette Raddison Blu Filini in Liverpool and went with him to the city's Panoramic 34 where he learned many of his cooking principles. After a break in Australia – working on a farm, picking fruit and vegetables and learning more about food provenance – he returned to help run the café at his father's caravan site on Anglesey. In 2011 Ellis and his brother Liam re-launched the 40-cover café as The Marram Grass where their hearty, rustic menus began earning accolades including 'Best Bistro/Brasserie of the Year' at the Anglesey Tourism Awards, a 4/10 in the Waitrose Good Food Guide, a coveted Acorn award by the Caterer Magazine and, this year, two AA Rosettes. In 2014, the late Sir Terry Wogan featured the brothers on his BBC 2 series 'Terry and Mason's Great Food Trip' and, since then, the restaurant has appeared on Michel Roux Jr's Hidden Restaurants on Channel 4 and Julia Bradbury's 'Best Walks With A View'. Praise from national food critics, worked up to the BBC's 2017 Great British Menu competition where Ellis represented the North West region and narrowly missed out on the title.
James Mackenzie
Chef/Patron of the Michelin-Starred Pipe & Glass, South Dalton, East Yorkshire
Since 2006 Yorkshireman James Mackenzie and his wife Kate have built the Pipe and Glass in South Dalton, near Beverley, into a warm, comfortable country pub where customers enjoy the highest standards of modern cuisine. Within four years, it was awarded East Yorkshire's first Michelin Star and went on to be named a Michelin Pub of the Year, a Good Pub Guides National Dining Pub and a Yorkshire Dining Pub of the Year, as well as consistently featuring in the Morning Advertiser Estrella Damn Top 50 Gastropubs. James, who works closely with local colleges, has launched 'The Golden Apron' competition to champion the next generation of Yorkshire's talented young chefs. His critically acclaimed cookbook 'On the Menu' won Best Debut Cookbook at the Gourmand World Cookbook Awards in Paris. And James himself, a television regular, was the Craft Guild of Chefs Dining Pub/Restaurant Chef of the Year in 2016.
Adam Reid
Chef / Patron, Adam Reid at The French, Manchester
Since training at Paul Heathcote's School of Excellence Manchester-born Adam Reid rose to be Chef de Partie at the Bridgewater Hall, Manchester … before moving across the city centre to Le Mont … going down to the Michelin-starred Mallory Court Hotel in Warwickshire … becoming Senior Sous Chef at the Michelin-starred Simon Radley at The Chester Grosvenor … and moving to Brockencote Hall in Worcestershire. Adam came back to Manchester as Simon Rogan's Head Chef for the launch of The French at The Midland Hotel. And within a year The Caterer's Acorn Award had recognised him among the hospitality industry's brightest young talents. In 2014 he was 'Manchester Chef of the Year' as The French was ranked no. 17 in the Waitrose Good Food Guide, won its third AA rosette and was rated no. 26 in Square Meal's Top 100 Restaurants. In 2016 Adam appeared in the BBC2 Great British Menu series and won a coveted place, with his spectacular dessert, at a Westminster Palace banquet to celebrate Great Britons of HM The Queen's reign. In 2016, when Simon Rogan left The Midland Hotel's two restaurant operations, Adam took the reins of The French and introduced new menus that showcase his own personal style of modern British cooking.
Steven Smith
Chef Owner, The Freemasons, Wiswell
Steve's traditional English pub was last year's AA Restaurant of the Year for England, alongside being the top North West pub among the country's Top 50 Gastropubs, becoming one of the only pubs to make The Sunday Times Top 100 Restaurants and, for the third year in a row, being named the No.1 pub in the Good Food Guide. Steve was also awarded the Special Contribution Award for Food Excellence at the 2018 Ribble Valley 'Stars in Tourism' award, for his contribution to raising the national profile of the Ribble Valley and ultimately helping to drive footfall into the area. Now with a third AA rosette, and a personal Acorn Award for industry excellence, The Freemasons' team is known for rising to occasions – as it did when Aga Tyczka won Front of House recognition at the 2016 Top 50 Gastropubs Awards.
Gary Usher
Sticky Walnut, Chester, Burnt Truffle, Heswall, Hispi, Didsbury, Wreckfish, Liverpool.
Crowdfunder restaurateur Gary Usher is as well-known for attracting public funding as he is for the national acclaim he gets from some of the country's top food critics. His impressive restaurant opening rate began with Sticky Walnut in Chester in 2011 followed by Burnt Truffle in Heswall, Hispi in Didsbury and the two-storey Wreckfish in Liverpool city centre. And that last one is still believed to be the most money ever raised for a restaurant through a UK crowdfunding campaign – just shy of £209,000 from 1,522 people. The latest restaurant in his northern empire – Pinion in Prescott will be the fifth one – is expected to open later this year after Gary got it off the ground by smashing his £50,000 crowdfunding target in less than one hour. And overnight his reputation attracted nearly £70,000 worth of investment from nearly 1,000 supporters. No wonder The Caterer includes him among their 'Top 100 Most Powerful People in Hospitality'.
* * * * * *
Media enquiries please contact: Astrid Wears-Taylor
E:astrid@hospitalityaction.org.uk
Tel: 020 3004 5503
For more information about Hospitality Action visit www.hospitalityaction.org.uk