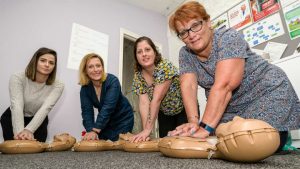 Teams from across St Austell Brewery's Head Office took part in invaluable lifesaving lessons as part of the British Heart Foundation's recent Restart a Heart Day initiative.
Led by Occupational Health Manager Chrissie Knight, a series of 40-minute sessions were held across the day to train members of staff in cardiopulmonary resuscitation (CPR), giving them the necessary skills to save a life in case of cardiac arrest.
In the UK, less than 1 in 10 people survive an out-of-hospital arrest but administering CPR at the scene of an incident can increase a person's chances of survival, as Chrissie explained: "Learning how to administer CPR really can be the difference between life and death and it's so easy to learn. Today's activities tie in with the British Heart Foundation's Call, Push, Rescue campaign which clearly outlines how you can make that difference.
"If someone near you suffers a heart attack, make sure someone calls for an ambulance immediately, then use your learning to administer CPR until the emergency services arrive. It really is that simple to save someone's life."
One person who has experienced first-hand the benefits of CPR training at the Brewery is management accountant Kieran Byrne, who had to put the lifesaving skills he learned to good use after an incident on the north coast last year. After the event, Kieran said: "If it wasn't for the Call Push Rescue training, I wouldn't have had the confidence to act. Call Push Rescue gives everyone the chance to save a life."
As Brewery People Director Tamsyn Hawkins added: "Of course it is difficult to predict how you might react in a life or death situation, but giving up just 40 minutes to learn the skills that will enable you to make a difference has got to be worthwhile and it was really rewarding to see how many Brewery colleagues came along today to take part."
For more information about CPR training from the British Heart Foundation and what to do if someone suffers a cardiac arrest, visit www.bhf.org.uk.