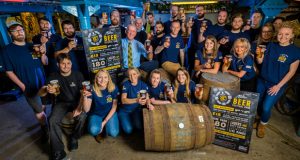 Boasting a line-up of over 180 beers and ciders from across the UK, this year's Celtic Beer Festival in the St Austell Brewery vaults – celebrating its 20th anniversary this year – promises to be the biggest and best yet, featuring an eclectic mix of live music sessions across the day and including a mammoth secret act to be revealed on the day.
Kicking off at 11am on Saturday November 24th, festival revellers will be able to tease their tastebuds with a fabulous range of ales, lagers and ciders, over 60 of which have been hand-crafted on site at St Austell Brewery, making use of the Small Batch Brewery to create a wide selection of styles and flavours.
But the beer isn't just home grown, featuring a wide selection of Cornish ales from the likes of Harbour, Keltek, St Ives, Tremethick and Blue Anchor alongside offerings from across the UK and beyond to complete the most extensive line of ales ever at the 20-year-old festival.
As ever, the main drive of the event – apart from being a fantastic experience for everyone coming along on the day – is to raise as much money as possible for the Brewery's Charitable Trust.
Last year's Celtic Beer festival raised over £40,000 for local charities, organisations and individuals in need, all made possible through sponsorship, donations of beer and the volunteering of Brewery staff to man (and woman) the very busy bars and cloakrooms across the day.
As Brewery Chief Executive James Staughton commented, "The Celtic Beer festival has raised over £215,000 for local charities across its 20-year history. It's an amazing figure and we thank everyone who has come along across the years to join in our annual party and to help out those in need. This year's event is going to be the best yet and we've got a big secret in store for music lovers on the day, so we're looking forward to welcoming as many people as we possibly can to join in the fun and help raise a record amount for the Charitable Trust."