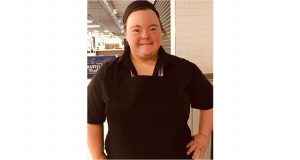 A catering assistant with Down's syndrome who works for BaxterStorey at its contract at City of Glasgow College has been included in the BBC 100 Women 2018 list of the most inspiring and influential women around the world this year.
Thirty-year-old Sam Ross, who has worked for BaxterStorey at the city site since 2016, has been included on the list of leaders, trailblazers and everyday heroes, ranging from 15-94 in age.
Other women to appear on the list alongside Ross include Frances Arnold, American chemical engineer and Nobel Laureate, Chelsea Clinton, vice-chair of the Clinton Foundation in the US, and Chinese musician and songwriter G.E.M., who uses her influence to support charities and organisations dedicated to music, education and poverty.
Ross is an ambassador for Down's Syndrome Scotland and has appeared in advertisements promoting her home city of Glasgow.
Earlier this year, Ross spoke at the World Down's Syndrome conference in Glasgow, where she gave an insight into her independent life. She travelled to Chennai in India in 2015 to inspire young adults with the condition, and, since then, has given awareness talks at the City of Chambers, the Gallery or Modern Art, King Tuts venue and Tube stations.
Ross commented: "When my Dad told me I'd been selected in the top 100 inspirational women, I couldn't believe it. It's been amazing. So many people are coming up me and I've even been contacted by someone from Australia who got in touch to congratulate me. I'm so excited I'm famous!"
Allison Miller, operations manager added: "We are so proud of Sam and what she has achieved. Sam had been working at the college for ten years when joined us through via tupe, and is a big character known by many across the college. She is a much-loved member of the team; a real conscientious worker and we couldn't be prouder of her making the BBC 100 Women 2018 list."
Tom Lowe, head of people operations said: "At BaxterStorey we believe in treating all people equally and we truly embrace diversity. We offer a wide range of employment opportunities for any individual and we have some fantastic people with learning disabilities working for us and on placements with us. We work in partnership with the college and sit on the Board of the College inclusion team, which was recently recognised with the Glasgow Diversity and Inclusion Award".