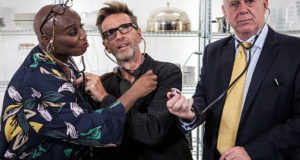 The chefs who will compete in this year's Great British Menu for the chance to cook at a culinary feast marking 70 years of the NHS have been announced.
One of the UK's most popular culinary programs, the televised cooking competition is seen as a platform for the cream of Britain's culinary crop to strut their stuff and make a name for themselves as one of the UK's best chefs. This year the competition pays homage to the NHS, which is celebrating seventy years since its conception – let's hope there aren't too many syringes filled with sauces or desserts served on mini hospital beds.
The format is changing slightly, too – once the four final winners are decided and have cooked their dishes at the banquet, the diners will vote for their favourite dish and crown one chef the champion of champions in the final episode. Matthew Fort, Andi Oliver and Oliver Peyton will be returning as judges, while the veteran chefs this year are Tom Aikens, Daniel Clifford, Angela Hartnett, Michael O'Hare, Jeremy Lee, Phil Howard, Richard Corrigan and for the first time Paul Ainsworth.
Those competing are a mix of returning competitors and new names – take a look at the list below for the full rundown of who's competing, plus the restaurants and locations they're at now. The series will air later this summer.
The competing chefs by region
London and South East
James Cochran, 1251, London
Scott Goss, The Twenty Six, Tunbridge Wells
Selin Kiazim, Oklava, London
South West
Jude Kereama, Kota, Cornwall
Olivia Barry, Adelina Yard, Bristol
Tom Brown, Cornerstone, London
North West
Craig Sherrington, Virginia House, Cumbria
Ellis Barrie, The Marram Grass, Anglesey
Liam Simpson-Trotman, Orwells, Oxfordshire
North East
Dan Fletcher, Fenchurch at The Sky Garden, London
Danny Parker, House of Tides, Newcastle
Dave Coulson, Peace & Loaf, Newcastle
Scotland
Benedict Reade, Edinburgh Food Studio, Edinburgh
Lorna McNee, Andrew Fairlie at Gleneagles, Perthshire
Ross Bryans, formally Corrigan's Mayfair, London
Wales
Andrew Sheridan, Sosban Restaurant, Carmarthenshire
Chris Harrod, The Whitebrook, Monmouthshire
Jason Hughes, Chateau Rhianfa, Anglesey
Central
Marianne Lumb, Marianne Restaurant, London
Ryan Simpson-Trotman, Orwells, Oxfordshire
Sabrina Gidda, Bernardi's, London
Northern Ireland
James Devine, Ardtara Country House, Londonderry
Shauna Froydenlud, Marcus at The Berkeley, London
Tommy Heaney, The Great House, Brigend