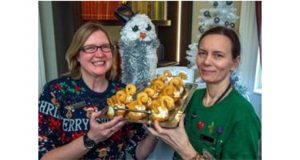 Last week, staff members at Newmarket-based luxury Hotel, Bedford Lodge Hotel & Spa raised over £500 for East Anglia Children's Hospice with a flurry of festive fundraising activities. Festivities included a Christmas Charity Bake Sale and the Hotel's annual Christmas Jumper Day celebration on Friday 7th December, as well as holding a £1 donation day, where £1 from each sale at the Hotel is donated to the charity
Every year, Bedford Hotel & Spa staff members from across all departments embrace the festive season by donning their best Christmas jumper for the day, donating £5 in the process.
EACH is a local charity to Bedford Lodge Hotel & Spa and was selected as the Hotel's 2018 Charity of the Year. The festive fundraising rounds off a year of activities, the proceeds from which all go towards the annual amount raised for EACH at the end of the working year. Working with families across Cambridgeshire, Essex, Norfolk and Suffolk, EACH offers care and support for children and young people with life-threatening conditions.
Noel Byrne, Chief Executive at Bedford Lodge Hotel & Spa, commented: "East Anglia Children's Hospice does fantastic work helping families in our local area, and I think this has truly inspired the team with our fundraising initiatives this year, which have culminated in this lovely festive finale.
"We hope that our donation will play some part in supporting EACH in continuing its important work. On top of our Charity of the Year fundraising, Bedford Lodge Hotel & Spa is always keen to support national charity initiatives, as well as our staff members' personal charitable activities."