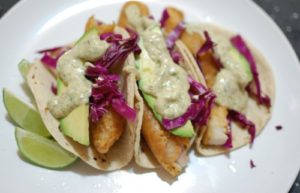 Ingredients:
Fish:
1 lb firm white fish
1½ cups flour
1 tsp paprika
1 tsp chili powder
1 tsp cumin
1 tsp salt
3 cups beer
Oil for frying
Spicy Cilantro Cream Sauce:
½ cup sour cream
½ cup mayonnaise
½ tsp oregano
½ tsp chile powder
½ tsp cumin
½ tsp garlic powder
½ tsp onion powder
¼ tsp salt
¼ tsp all spice
1 minced jalepeno
1 lime squeezed
½ cup chopped fresh cilantro
Corn Tortillas
Lime wedges
Sliced Avocado
½ head of Red Cabbage
Directions:
Cut fish fillets into strips and marinate in two cups of beer in the refrigerator for at least 30 minutes.
Combine all ingredients for the Cream Sauce and refrigerate.
In a bowl, whisk together 1 cup of flour, the paprika, chili powder, cumin, and salt.
Stir in remaining 1 cup of beer and let mixture sit at room temperature for 30 minutes.
Slice cabbage.
Heat oil with a depth of 2 inches to 200 degrees C.
Pat dry fish and season with salt and pepper.
Toss with the remaining ½ cup of flour.
When the oil is hot, coat 6 piece in the beer batter and shake off excess batter.
Fry for 4-5 minutes, moving pieces around once or twice to avoid sticking to the bottom of frying pan.
Remove fish and place on a wire rack and serve with warm tortillas, cabbage, avocado, and Spicy Cilantro Cream Sauce.