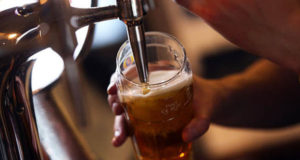 A shortage of CO2 could impact of beer and fizzy soft drinks this summer, just as the pub and hospitality industry begins its busiest period with the World Cup and barbecue season now under way.
A shortage among some of the biggest European suppliers has emerged, which could threaten a much-needed boost to beer sales during the World Cup football tournament.
The UK has only two industrial plants producing carbon dioxide and one is closed for maintenance, threatening to leave drinks makers high and dry.
"It's already stopping production," said Brigid Simmonds, head of the British Beer and Pub Association. Brigid Simmonds, chief executive of the British Beer and Pub Association, said: "We are aware of a situation affecting the availability of CO2 across Europe, which has now started to impact beer producers in the UK.
"We have recommended our members to continue to liaise with their providers directly where they have concerns over supply.
"We will continue to monitor the situation carefully. However, given the time of year and the World Cup, this situation has arisen at an unfortunate time for the brewing industry."
She has written to CO2 producers asking them to rectify the situation.
Gavin Partington, director-general at the British Soft Drinks Association, said the CO2 shortage "across northern Europe is impacting a wide range of businesses across the food and drink sector".
"Soft drinks producers in the UK are taking active steps to maintain their service to customers, including working with their suppliers to mitigate the impact as well as looking at alternative sources."