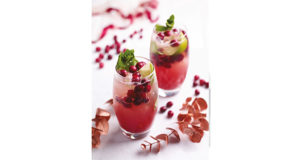 Serves: 1
Preparation time: 30 minutes for cocktail
plus cooling time (a couple of hours)

You'll need:

For each Mojito:
10 mint leaves
½ lime
4 tbsp/ 60ml Cranberry Syrup
4 tbsp/ 60ml rum
Ice
Soda water
For the syrup: (serves 4)
500g cranberries
300g sugar
250ml water
Method:
1. Put the cranberries, sugar and water into a saucepan and bring to a simmer and allow to bubble for 10 minutes until the sugar has dissolved and the berries burst.
2. Leave to cool allowing the cranberries to steep for a few hours or overnight. Strain the mixture into a jug, pushing it through the sieve with the back of a spoon.
3. To make a Mojito put the mint leaves in a glass with the lime juice, mix and crush together with the handle of a wooden spoon. Add the syrup, rum and ice and stir well or shake together in a cocktail mixer.
4. Top up with soda water and add a sprig of mint and a few cranberries to serve.
Note:
Use white rum for a classic Mojito flavour or spiced rum for a richer more Christmassy taste.