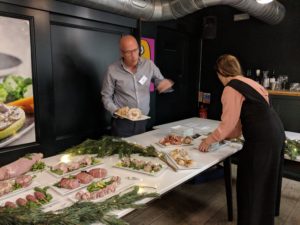 Launched with "Traditional Christmas fanfare" foodservice company Bidfood launched its 2018 Christmas range, showcasing innovative food and drink products inspired by this year's hottest food trends. The range includes the first festive selection of vegan dishes and desserts, in response to latest statistics suggesting there are now around 3.5million vegans in the UK alone.
The launch took place July 18 at London's Underground Cookery School with this year's offering designed with operators in mind, acknowledging the increasing pressure they are under to meet demand for vegan variety.
Bidfood has focussed on providing a wealth of plant-based buffet nibbles and mains, but the real stars of the show are the desserts. Decadent festive options include, Premium Selection Belgian Chocolate and Raspberry Torte, Honeybuns Mincemeat Crumble Citrus Traybake and Lemon Swirl Cheesecake, as well as a delicious selection of non-dairy ice creams, with flavours ranging from blueberry to Swedish glace.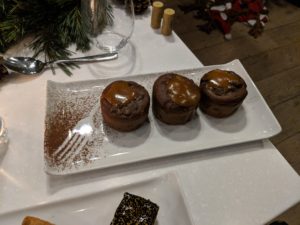 Laura Mason, Campaign Manager at Bidfood commented: "We're really excited to reveal this year's Christmas range. We've worked hard to expand the variety of foods we offer to meet the demand we've seen from our customers for more than just the traditional Christmas fare.
"Whilst the holiday season will always be about indulgence and fun festive flavours, there's more of a call than ever for products that reflect wider market trends. From world flavour influences, to vegan and free-from options, this year's collection is about catering for everyone.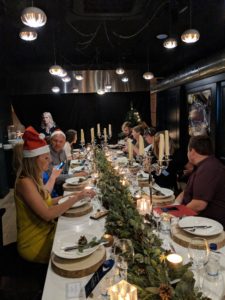 "With the significant jump in the UK vegan population[2] we are keen to ensure we have strong choices for this area of the market, particularly when it comes to desserts.
"Christmas is all about everyone being able to come together and enjoy, without the need for restrictions and limitations!
"We have also expanded our on-the-go range in line with insight that the convenience sector continues to grow[3] – from Proper Cornish Pasties with turkey and cranberry to individually wrapped We Love Cake Stollen Slices, there's a little something for everyone on the move at the busiest time of the year."