Customer engagement agency, Big Brand Ideas, brewed up a record amount of voucher redemptions and media hits for National Pub Fortnight, on behalf of Ei Group, the largest pub company in the UK, through a two-phase PR campaign.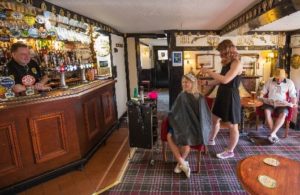 The PR strategy was focused highlighting the role that the local pub plays in the community and was led by Big Brand Ideas' engagement team who executed extensive national and regional media outreach. This included promoting National Pub Fortnight's giveaway of 50,000 free drinks via a consumer interest campaign.
Ei Publican Partnerships, the leased and tenanted division of Ei Group, saw a 241 per cent increase in voucher redemptions compared to last year, along with a 48 per cent increase in the number of pubs visited during the two-week initiative.
The app saw a 201 per cent annual increase in sign-ups and nearly a third of sign ups converted to redemptions.  The campaign coverage stood at over 15.5 million views with 94 pieces of coverage secured in just three weeks. The agency's media coverage also resulted in more than 4,000 direct visits to the campaign websites.
The team also conducted a survey which found that people value the pub as a local amenity, which was only third to the local shop and doctor's surgery. To emphasise the results from the survey, Big Brand Ideas conducted a stunt to 'put the pub at the heart of the community' where pubs hosted local business for a day.
Jon Dale, Head of Corporate Communication at Ei Group said: "Big Brand Ideas must be congratulated in speedily getting to the core of the challenge ahead and swiftly turning the objectives into a well-orchestrated consumer interest campaign that was fun, newsworthy, timely and most importantly effective.
"Not only did it get the media talking in a creative and engaging way, it contributed to a significant positive shift in drink sign ups, voucher redemptions and pubs visited.
"Since their appointment I have been impressed by the energy, creativity and passion shown by the entire Big Brand Ideas team."
Anna Thomas, PR Director at Big Brand Ideas, added: "This campaign allowed us to think of creative ways to bring local communities together as well as engaging with digitally savvy consumers. We found that people really do value the pub as a local amenity and crafted a picture story to reflect this. We saw significant increases in footfall to Ei Group's pubs during the initiative and the conversion rate surpassed all our expectations."