BISTROT Pierre has enhanced its offering at one of its most successful coastal bistrots after opening 14 guest rooms at The Royal William Yar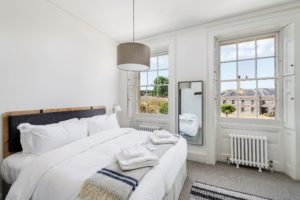 d Plymouth. Residence One is a Grade I* listed building which has been lovingly restored to create a unique accommodation offering with period features.
A former home of the Admiral of the fleet, the building is steeped in history and has undergone a major renovation programme. The rooms now complement Bistrot Pierre's existing offering and breakfast at the bistrot is included as part of the overnight package.
Nick White, CEO of Bistrot Pierre said: "Whilst this isn't our first accommodation venture, it is certainly our biggest. We also offer accommodation at our Ilkley bistrot, The Crescent, which has traded successfully for many years, and our Stratford-upon-Avon bistrot is located within The Swan's Nest Hotel. The renovation project to create Residence One is particularly exciting because of its scale and historic significance."
Rob Beacham, co-founder of Bistrot Pierre also commented: "At Bistrot Pierre, care, quality and attention to detail are the values we pride ourselves on across our bistrots – so this is something people can expect when staying at Residence One too. The rooms are the perfect partner to our Plymouth bistrot."