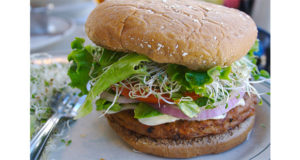 The emergence of 'bleeding' vegan burgers, which appeal to consumers who crave authentic-tasting meat substitutes, should aim to target those on low-meat diets, as this segment is expected to see more growth than veganism or vegetarianism, says GlobalData, a leading data and analytics company.
Veganism remains highly niche, with just 6% of American consumers and 3% of UK consumers reporting to be vegans in 2017, according to GlobalData.
Lewis Towell, Consumer Analyst at GlobalData, comments: "Following a low-meat diet is more popular than veganism and vegetarianism in both the US and UK, representing 16% of consumers. We expect the majority of growth for 'bleeding' vegan meats to come from these consumers, who would like to eat meat but recognize the environmental and ethical impact of eating meat every day and struggle to resist its particular taste and texture."
Infused with heme, Impossible Foods' burgers give the impression that they are 'bleeding'. The burgers have been especially popular amongst 'better burger' restaurants which have become a staple in foodservice over the last decade. Specifically, brands such as FatBurger, Bare Burger, and Umami Burger have turned to Impossible Foods to provide a premium meat substitute to keep up with the quality of their burger offerings. White Castle is also trialling the Impossible Burger at 140 locations, hoping to leverage the burgeoning popularity of ethical veganism.
Beyond Foods is currently garnering the most interest, with products now available both in supermarkets and in over 8,000 foodservice locations across the US. Many of these outlets are in the institutional sector, catering to the desire of public institutions, schools and hospitals to improve the health credentials of their food offerings, with Sysco Cutting Edge Solutions integral to the product's current growth.
Beyond Foods have also won over a number of high-profile foodservice operators, including TGI Fridays and A&W Canada, with the latter expecting to roll out the new option in over 1,000 locations in Canada this July. While Beyond Foods' market is still mostly centred in North America, the company has announced plans to begin expanding to over 50 global markets this year.
Towell adds: "Generally, the 'bleeding' burger represents an evolution, rather than a revolution in the meat substitutes market. By appealing to the broader, growing community of consumers that want to eat less meat due to ethical and health reasons, they have made the meat substitute market more inclusive. This can only be a good thing going forward, especially as the slow shift to ethical consumerism appears to continue unabated."