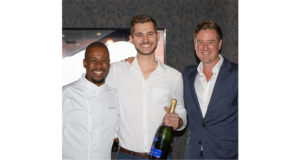 22-year old Hamish Pearce of Pidgin crowned 2018's Young Chef of the Year at awards ceremony held at M Victoria.
Bookatable by Michelin and M Restaurants in association with Champagne Pommery, Foodism & Collins King Associates, revealed the winners of the 2018 Young Chef of the Year contest at an awards ceremony held at M Victoria Street. Now in its second year, the contest aims not only to find the best young talent already in the kitchens of London, and across the UK, but also to encourage others into starting up a career in the hospitality industry following reported staff shortages post-Brexit. Taking the Young Chef of the Year title is 22-year old Hamish Pearce, from Hackney restaurant Pidgin, with Jamie Gardner from Coal Shed attaining the Outstanding Menu award and Adebayo Folarin winning Best Marketeer. Hamish and Jamie each win a five-day 'pop-up residency' in the 50 cover RAW restaurant at M Victoria St and Hamish will also be awarded a trip to Champagne Pommery in Reims and a set of Blenheim Forge Knives.
The 12 finalists, all young chefs under the age of 29 hail from some of the best restaurants across London and the UK. Battling it out for the top spot were representatives from Pollen St. Social, Opera Tavern and The Curlew, as well as other top restaurants. They were selected after submitting an original four-course menu at £45 per head together with costings for 50 covers. The chefs all suitably impressed M Group Executive Chef Mike Reid and guest judges in two competition rounds and were invited to M Victoria Street to cook in a series of pop up takeover nights, with diners and judges voting for their favourite young chef.
On crowning Hamish the winner, Mike Reid commented: 'It wasn't easy – the standard of all the contestants was seriously high and I was genuinely blown away by some of the cooking on show over the last month. Hamish however gave us the whole package we were looking for; an inventive menu, executed superbly with a full house on his pop-up night. He certainly gave his diners an experience they will remember – I couldn't have asked for anything more!'
Michel Cassius, Bookatable CEO said: 'We are passionate about helping to discover and grow new talent within the industry. This contest has again provided a great platform to showcase the exciting, innovative young chefs taking the UK culinary world by storm.'
Aside from taking on the tough job of judging the dishes, M founder Martin Williams is hoping that this contest will inspire the next generation of young chefs. 'There are two purposes of the contest – to nurture the best young talent already in our kitchens and secondly I hope that by seeing what other young people are doing with food, it will inspire others to get into the professional kitchen and try it out for themselves!