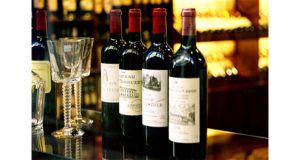 China is notorious for the adulteration of wine and the relabeling of inferior wines to more expensive brands, making it a safe haven for counterfeit products. However, a recent landmark case in favor of the Conseil Interprofessionnel du Vin de Bordeaux (CIVB or Bordeaux Wine Council), which represents more than 7,000 Bordeaux-based wine producers, against wine counterfeiters selling fake editions of some of the region's most prized chateaux, will provide a boost for winemakers and exporters to the country, says data and analytics company GlobalData.
In the recent past, China has emerged as the biggest and most profitable single market for French wine, accounting for over 40% of Bordeaux's annual wine exports by volume in 2016, according to the wine council. By comparison, the entire EU accounted for 35% of Bordeaux exports.
The CIVB says that despite a 10% volume decline in exports to EU countries, global exports remained stable with 270 million bottles exported at a value of over EUR1.7bn in 2015–2016. In fact, China became the top export destination for Bordeaux by volume in 2011, and by value in 2015.
However, counterfeit luxury goods are big business in the country, with China and Hong Kong estimated to be the source of 86% of the world's counterfeit goods. The US Chamber of Commerce estimates this significant percentage to be worth approximately US$397bn. The CIVB estimates that approximately 30,000 bottles of fake imported wine are sold per hour in China.
The extent of counterfeiting and consumption of counterfeit wine in China prove beyond doubt that the Chinese market has high demand for the authentic versions of these products. The decision by the court in favor of the CIVB follows years of wider international intellectual property disputes that showed little promise of reform.
Ryan Whittaker, Consumer Analyst at GlobalData, says: "The decision sets a precedent for the Chinese state working with winemakers to better police its wine market and crack down upon the criminals and their illicit fortunes from fake products."
In addition to the CIVB, Australia's Treasury Wine Estates has also received support from the Chinese authorities for the protection of their brands in the market.
Whittaker concludes: "This move by Beijing will increase the appeal of the Chinese markets for exporters. By protecting brands, China's shown that it supports higher-quality products, and a safer market in which to sell, buy and consume authentic wine."