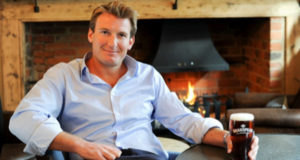 J T Davies & Sons, the parent company for Henley-based pub operator and brewer Brakspear, increased its turnover during the year ending 31 December 2017 by 11%, to £28.3m which generated EBITDA of £7.7m, down 7% on the prior year.
Sales growth came from the 13-strong managed house division and amounted to £3.0m, giving an annual turnover of £11.8m for managed houses. The turnover increase came from like for like sales growth of £0.5m (+5%), the full year growth effect from sites opened in 2016 of £2.1m and sites opened in 2017 of £0.5m.
The £0.2m decline in turnover in the tenanted and leased estate was due to sites transferring to the managed house division and others being sold. Like for like sales were flat.
The decline in EBITDA results from the higher costs affecting most operators across the pub industry, namely business rates and the relentlessly increasing costs of employment. In addition, significant expenditure was incurred in the last four months of 2017 relating to the acquisition of one new managed site and the transfer of two others to the managed estate from the tenanted estate, including a lease premium paid to an exiting lessee.
Chief executive Tom Davies said, "2017 was a satisfactory year for Brakspear. Our core tenanted and leased business continues to trade well. I believe we have some of the best pubs in the T&L sector, run by some of the most talented operators.
"Our managed estate is developing in line with expectations, despite cost pressures impacting the 2017 result. We have recently invested in our managed operations teams and I am confident that this will lead to futher improved service, sales and profitability."
During 2017, Brakspear acquired the Lion at Wendlebury, near Bicester, adding it to the managed estate, and the Leicester Arms in Penshurst, in Kent,  a coaching inn with 12 bedrooms, which joined the T&L estate.Since the year end, Brakspear has added 13 boutique bedrooms to the Lion and refurbished its main bar.
Elsewhere in the managed estate, the Little Angel in Henley was transferred from the leased estate as was the Dog & Duck in Wokingham which re-opened in Q4 after a significant development.
Three T&L sites were sold during the year as part of Brakspear's pub disposal programme, two of which were sold to local pub operators.
Brakspear invested a total of £6.9m in its pub estate during 2017, a similar amount to the previous year, which included the managed house acquisition, refurbishments and maintenance.
Davies added "We continue to invest in our T&L pubs, supporting our tenants to deliver a high quality experience, and in our managed estate, where we aim to exceed our customers' high expectations.
"I am delighted with our acquisition and development of the Lion, and the very recent refurbishment of the Frogmill near Cheltenham, both premium sites which are adding further quality to our pub estate."