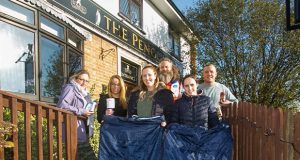 Penguin's landlord Lee Rae has been working with Plymouth-based charity to bring every rough sleeper in Plymouth in from the cold this winter, assuring each of them somewhere warm to sleep when the temperature dips below zero.
The Severe Weather Emergency Protocol (SWEP) is just one of a number of measures employed by Plymouth Access to Housing (Path), working in partnership with other agencies and local businesses, to reduce homelessness across Devon and raise awareness of the problems that force people out of their homes and onto the streets.
As part of its latest fundraising drive, Path will be working with local people and businesses in Plymouth across December to raise money and increase the number of SWEP nights across the city. Part of that drive will include a major raffle, to be drawn at the Penguin Pub in Mannamead on December 12th, with tickets available to purchase at the pub.
A long-time donor to the Path charity, Penguin landlord Lee Rae commented: "Path is just such a fantastic organisation, helping so many people who have fallen on bad times for whatever reason to find their feet again and we're thrilled to be able to help out with this latest push to get people off the streets this winter."
The Penguin has a long history of reaching out to those who are lonely, vulnerable or socially isolated, running a special £5 meal and drink offer across the week to encourage local people to come together and meet new friends.
Partnering with Path this winter, Lee is extending this offer to include a special Christmas Day opening, inviting all of those who are socially isolated, including students and the elderly, along to the pub for a free soup and drink between 3pm and 5pm.
The pub will also act as a depository for any donations of food, sleeping bags and first aid supplies to help those who are currently homeless in Plymouth, while its popular weekly quiz night will continue to contribute towards the Path charity.
Getting to the bottom of the homelessness problem in Plymouth and beyond will not be solved overnight but, as Tara Wilkinson adds, there are plenty of initiatives currently at work that could make a big difference: "Funding for new initiatives like the Multi Agency Rough Sleepers Team and the Housing Information and Support Service is really important as it helps us to identify and work with homeless people. Understanding their needs and problems means we have a clearer idea of what needs to be done to help them back into society."
Working together with volunteers out on the streets means that Path has a wealth of knowledge about those sleeping rough, while partner organisations such as Shekinah and the Plymouth Soup Run ensure that homeless people are fed and looked after properly during the day in centres where outreach workers and advisors can assist in getting them the help that they need.
For more information on how you can help Path to get rough sleepers off the streets this winter, please see www.pathdevon.org  For more information about the Penguin Pub and its support of the charity, visit www.thepenguinpub.com