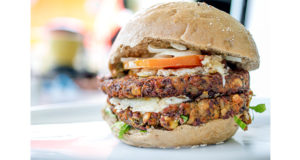 Over a quarter of meat-eating Brits have reduced or limited their meat consumption in the last six months and since 2016 sales of meat-free products have jumped 4% to £559 million and are projected to grow by almost a fifth by 2021, according to a study by market intelligence specialists PRAGMA.
It's not only vegans and vegetarians that contribute to this growth. There are now 22 million "flexitarians" (those who switch between vegan/vegetarian and meat meals) within the UK, and an increasing number of pescatarians.
Half of Britons who have reduced their meat consumption believe that eating too much meat is bad for their health. With the increased media coverage on the cancer-causing effects of meat-heavy diets there is no doubt that a major factor for the increased demand in meat-free foods are the perceived health benefits.
Campaigns such as "Meat Free Mondays" or "Veganuary" (where people try out a vegan diet for January) have gained popularity. In 2014, participants of Veganuary numbered a mere 3,300 which increased to 168,000 participants this year (and that was only those who enrolled online).
Social media, particularly Instagram, is playing an important role in the promotion of meat-free diets. Instagram is the go-to place for food inspiration and #vegan has been used in over 57 million posts. Similarly, vloggers, such as Deliciously Ella and theHemsley sisters, are using social media to make an impact: 16% of Brits cite vloggers as their influence to reduce the amount of meat they eat.