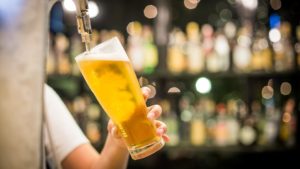 Tax freezes which were announced in Chancellor Philip last budget have come into effect from today (February 1st). In his autumn budget last October the Chancellor froze duty on beer wine and spirits, but announced that the duty on wine would continue to increase in line with inflation adding up to 9p and sparkling wines and 7p on still wines.
The Treasury reports that a standard pint of beer would now be 14p more expensive had taxes written with inflation.
During a visit to a brewery in Liverpool this week, the Chancellor praised the contributions made by the British beer and pub sector to the economy and communities.
An increase in beer duty would have come into effect today had the Chancellor not chosen to freeze it for another year. The BBPA calculates the decision will save pubs and pub-goers £110 million, helping to secure upwards of 3,000 jobs that would have otherwise been lost.
The British Beer & Pub Association (BBPA) has welcomed the implementation of the freeze on beer duty from today.
Brigid Simmonds, Chief Executive of British Beer & Pub Association, said:
"Brewers and Pub-goers across the UK will be toasting the Chancellor today as beer duty is frozen for another year. This will save brewers, pubs and pub-goers £110 million and secure upwards of 3,000 jobs that would have been lost had beer duty gone up today.
"Clearly, the Chancellor listened to the 116,000 people who signed the petition to cut beer tax in his last Budget. Pubs are so important to their local communities and 82% of the beer we drink here is brewed in the UK, so it is great to see the Chancellor supporting a great British industry.
"Freezing beer duty is a big helping hand for pubs across the UK that are struggling. I hope we can build on this in the future and we will continue to celebrate the vital role that local pubs play in communities and highlight the ongoing pressures they face by supporting the Long Live the Local campaign.
"The Chancellor's decision to review Small Brewer Relief is also most welcome and now underway."