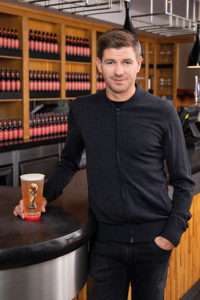 As England's semi-final against Croatia looms later tonight, Budweiser has reconfirmed its promise to giveaway a free beer to every adult in the UK if England go on to win the World Cup against France on Sunday, and, AB InBev is already increasing production in preparation.
AB InBev UK & Ireland president, Jason Warner, confirmed this morning that beer production is increasing at UK breweries, in preparation to follow through on its commitment.
"At Budweiser, we're getting ready to honour the people who make football the beautiful game we all know and love – the fans," he said. "We will celebrate by giving free beer to the nation if England brings the trophy home to reward the fans for their unwavering dedication to their team, and unshakable belief that the trophy will be coming home.
"So, we're ready, and our breweries are still brewing beer around the clock in preparation. Let's end these four weeks of euphoric freedom in the most epic way possible. It's coming home – let's party like it's 1966!"
The promotion was launched at the beginning of the tournament by former England footballer Steven Gerrard, who captained England at the last FIFA World Cup and has represented England on 114 occasions.
Drinkers have to register at www.freebudforthenation.co.uk and where they can claim a voucher for their free beer.
We Brits are expected to consume 150 million pints of Budweiser before the final whistle blows on the last game of the tournament.
The coupon will only be available to download for 24 hours from when the whistle blows, if England have won, and will only be redeemable for 24 hours in various retailers, up to the value of £5. (terms & conditions apply)