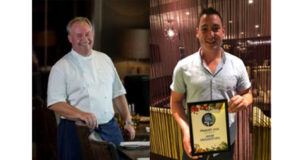 Two of Bedford Lodge Hotel & Spa's chefs have been awarded top accolades at a recent regional food and drink awards ceremony, held on Thursday 9 August, which recognised some of the finest foodie talent in East Anglia.
Sean Melville, Executive Head Chef was crowned Chef of the Year and Jamie Mountford, Head Chef, was a finalist in the Food & Drink Hero category at the Cambridge News Food & Drink Awards. The two chefs were nominated for the awards by their local community, and, as they received the greatest number of nominations, were shortlisted for the final and then judged by a panel of food and drink experts.
Sean Melville has been creating spectacular dishes at Bedford Lodge Hotel & Spa's 2AA Rosette Squires restaurant since 2016 and has been recognised at the awards for his passion to innovate and experiment with new recipes, as well as continually championing the value of fresh, locally sourced produce. On top of managing the Squires kitchen team, Sean's role as Executive Head Chef now includes running the kitchen at Bedford Lodge Hotel & Spa's recently acquired sister Hotel, the Rutland Arms.
Sean comments: "At Bedford Lodge Hotel & Spa we are always looking for new recipes and ideas that will create a unique dining experience for our guests. Being able to experiment with creative ideas like this, and seeing my team feel inspired to do the same, is what makes my work so rewarding. With such tough competition from high quality contenders from the Cambridgeshire foodie scene, it feels really special to have been recognised through the awards. I look forward to experimenting with more delicious flavours and recipes."
Jamie Mountford, Cambridge's very own 'Masterchef', has been recognised in the Food & Drink Hero category for both his exceptional cooking talents and his drive to use his skills to fundraise for causes close to his heart. Jamie charmed the nation when he participated in the 2016 series of Masterchef: The Professionals, and, with his recent promotion to Head Chef at Bedford Lodge Hotel & Spa, continues to create spectacular dishes for guests at Squires restaurant. In his spare time, Jamie regularly organises food-tasting events in aid of Headway Cambridge, a charity that supports people who have suffered brain injuries.
Jamie comments: "We have organised three successful charity food tasting events for Headway Cambridge this year, and I will be running a fourth event on 30th September. It is no easy feat when working full time, doing a local Cambridge 105 radio show, and being a dad to a two year old, but, the events are so important for helping our local community and it is something I am really passionate about. I have had such amazing support from my team at Bedford Lodge Hotel & Spa, especially Sean, who has been there helping and supporting me the whole way. Without the support from him and the business none of this would have been possible."