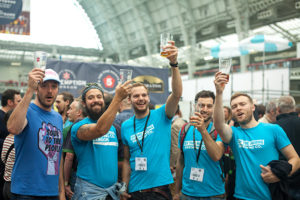 The Great British Beer Festival, taking place from 7-11 August at Olympia London, has partnered with the Royal British Legion to raise a collective glass to say 'Thank You' to the First World War generation who served, sacrificed and changed our world.
The collective cheers will take place on Wednesday the 8th of August – a significant date that marks exactly 100 days until Remembrance Sunday. The group "cheers" is part of a wider campaign run by the Royal British Legion to remember the 1.2 million British and Commonwealth Armed Forces who lost their lives, those who played a part on the home front and those who returned to build a better life for generations to come.
The Great British Beer Festival has chosen the Royal British Legion as their charity partner to raise both awareness of the 'Thank You' campaign and much-needed funding for military personnel and veterans. All Royal British Legion members can enjoy discounted entry to the festival throughout the week. Surplus beer tokens will be donated to the charity's causes, and collection tins will be present across all of the 30 bars at the festival.
Catherine Tonry, Great British Beer Festival organiser said: "We are looking forward to supporting the Royal British Legion with their 'Thank You' campaign this summer. Having tens of thousands of visitors to the festival under one roof provides a unique opportunity to raise a collective glass to a generation that shaped our society and to thank them for their service."
Mark Bishop from the Royal British Legion said: "We would like to thank CAMRA for choosing The Royal British Legion as their partner charity for The Great British Beer Festival this year. We look forward to raising a glass with everyone to say 'Thank You' and raise funds to continue our work supporting the Armed Forces community and their families."