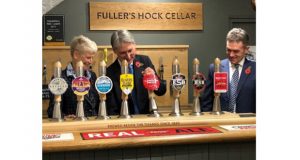 Today, the Chancellor visited the historic Fuller's brewery in advance of announcing the Q3 GDP results. Accompanying the Chancellor was the British Beer & Pub Association's (BBPA) Chief Executive, Brigid Simmonds OBE and the Chief Executive of Fuller's, Simon Emeny, who is also Chairman of the BBPA.
The visit was a great opportunity for the BBPA to highlight the contribution of the beer and pub sector to the UK economy. The beer and pubs sector comprises 1.2% of the UK's GDP and contributes £13bn in tax revenue every year. The Chancellor's decision to freeze beer duty in the Autumn 2017 Budget and a fantastic summer have boosted the sector this year; already the beer industry has paid an extra £120m in duty revenue alone compared to the previous year.
­­
The Chancellor once again supported the beer and pub sector in his most recent Budget. His decision to freeze beer duty will save brewers, pubs and pub-goers £110 million. In addition, the Chancellor's announcement of a cut to business rates for high streets and other small businesses by a third will benefit community pubs by £120 million over the next two years. Increasing the investment allowance to £1 million and capital allowances for new build is a further boost to the sector.
Brigid Simmonds OBE, Chief Executive of the British Beer & Pub Association, said:
"Clearly, the Chancellor listened to the numerous representations from MPs and the 117,000 British pub-goers spurred by the Long Live The Local campaign and announced a Budget which supports brewing and pubs.
"Pubs are vital to their local communities, they are also third on the list of things to do for overseas tourists when they visit the UK and yet one in every three pounds spent in a pub goes to the Treasury. Brewing and pubs is a truly British success story, 82% of the beer we drink here is produced in the UK. As a sector we contribute £23 billion to the economy and support 900,000 jobs. We are grateful to the Chancellor for recognising this and for the Government's support for our sector."
The Chancellor of the Exchequer, Philip Hammond, said:
"The success story of British brewing was clear to see from my visit to Fuller's in Chiswick today. Pubs are at the heart of so many of our communities and play a vital role in the UK economy.
"That's why I announced a further freeze to beer duty in my Budget, backing British brewers, supporting hard working families and the 900,000 people working in the beer and pub industry.
"Landlords across the country also stand to benefit from our plan to help local high streets, which includes reduced business rates and £675 million to improve town centres so they are fit for the future."
Simon Emeny, Chief Executive of Fuller's, said:
"We were delighted to welcome the Chancellor and thank him in person for the recent duty freeze. It was also a great opportunity to discuss some of the other issues that impact on a business like Fuller's including business rates and the importance of being able to access a talented pool of people."