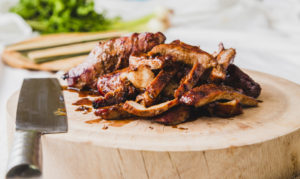 Established by Mr Wing Yip and his brothers, and now with two generations of our family at the helm, the company has rapidly become one of the most celebrated stores, sourcing and supplying authentic ingredients to the UK's Chinese and Asian restaurants, discerning chefs and food enthusiasts.
The company has built its experience in the Oriental food markets over more than 40 years, developing an unparalleled network of suppliers and manufacturers throughout the Far East. This enables Wing Yip to source products of both quality and innovation for our customers.
Wing Yip are pleased to present the recipe idea below to our readers.
Char Siu Barbecue Pork
Serves 6
Ingredients:
Marinade:
1kg pork shoulder or leg (with a good amount of fat), deboned and sliced into 3-4" thick pieces
2tsp salt
1tsp five spice powder
1tbsp Wing Yip Shaohsing Wine
1tsp Wing Yip Sesame Oil
2tbsp Wing Yip Hoi Sin Sauce
2tsp golden syrup
2 cloves garlic, minced
1-2 drops red food colouring (optional)
A pinch of pepper
Cooking/Basting Liquid:
1tsp vegetable oil
1tsp golden syrup
1tbsp Wing Yip Hoi Sin Sauce
Method:
Place all the marinade ingredients into a large food bag which can be securely closed, including the pork. Ensuring that there is as little air as possible in the bag massage the marinade onto the meat and then place in the fridge overnight, or for at least 2 hours.
When ready to cook, pre-heat the oven to the highest temperature, ideally 250c.
Remove the pork from the marinade and place onto a foil lined baking tray ensuring that the meat isn't too close together. You do not want to overcrowd the tray.
Mix the remaining marinade with the cooking/basting liquid and keep in a bowl near the oven. Brush or spoon a small amount of the marinade over the pork and place into the hot oven.
Cook for 10 minutes until the pork has started to colour and then turn the oven temperature down to 160c. Baste the pork every 10 minutes turning the pork over each time. Cook for 35-40 minutes, or until the pork is cooked through.
Remove the pork from the oven and loosely cover with foil and then leave to rest for at least 15 minutes before serving. Serve with rice, or chop up and use in stir-fries.