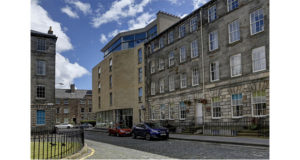 Following record occupancy numbers, an Edinburgh hotel has significantly expanded to become the largest independent hotel in the city.
Ten Hill Place Hotel, BW Premier Collection, in the heart of Edinburgh's Old Town, has increased its number of rooms by nearly 70% to take its total offering to 129 rooms.
The hotel is adjacent to buildings owned by the Royal College of Surgeons of Edinburgh and these neighbouring properties were carefully renovated as part of the development.
The expansion continues the ongoing relationship between the hotel and the college, with all profits made from the venue going back into the training of surgeons. The hotel has grown in popularity year on year and with an 88% occupancy rate, with more people than ever helping to fund the education and assessment of medical students in Scotland.
As part of the expansion, the onsite restaurant and wine bar has also seen an increase in capacity, with 150 diners now able to enjoy the freshly cooked meals. The kitchen was designed and kitted out by former Hotel Chef of the Year Alan Dickson, meaning that both hotel guests and Edinburgh residents are provided with the best possible culinary experience.
The hotel is run by the college's commercial arm, Surgeons Quarter, and Scott Mitchell, its Commercial Director, said: "Work of this nature is always hugely exciting but it can be equally stressful too, especially in hospitality.
"But credit to our team and our contractors who have helped make it a smooth process, with guests, delegates and visitors benefiting as a result.
"In turn, our expansion will give us a greater platform to generate the profits that go directly towards improving lives for surgical patients all around the world – including those in areas of conflict and extreme poverty.
"We are hopeful that the expansion will enable the hotel to deliver its full potential, furthering what we already currently provide, our food and drinks offering, assisting our charitable aims and boosting tourism and hospitality jobs in Edinburgh."
Rob Paterson, CEO at Best Western Great Britain, said: "It's fantastic to see Ten Hill Place, BW Premier Collection build on its years of continued success to become Edinburgh's largest independent hotel. The hotel has long provided the Scottish capital with a quality, cosy and convenient place to stay and these new developments mean they'll be able to provide their excellent service to even more visitors going forward.