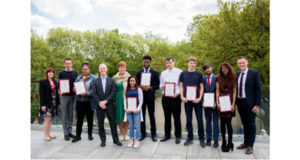 CH&CO joined forces with The Prince's Trust to give eight young people a helping hand towards a career in hospitality through the Get into Hospitality with CH&CO programme.
The programme provides unemployed young people, aged 16-30, with the opportunity to gain skills and experience in the hospitality sector, and support to secure further training and employment.
The eight candidates that took part in the three-week programme had the privilege of working at some of CH&CO's most prestigious and unique venues, including ZSL London Zoo, 28 Portland Place, Gray's Inn, the British Medical Association, the Law Society and with Historic Royal Palaces at Kensington Palace.
Working with CH&CO's talented chefs and front-of-house teams, they were given valuable training and work placements that covered all areas of working in hospitality; from barista training, knife skills and nutrition and health, to customer service and health and safety. They also received guidance in important life skills, such as managing finances and employability.
The programme culminated in a special event held at ZSL London Zoo that saw all eight young people graduate with flying colours.  They all showed a genuine hunger to pursue a hospitality career, having benefitted from excellent training and mentoring that instilled the confidence and self-belief, as well as skills and experience, to help them enter employment.
CH&CO has committed to provide ongoing support to all of the graduates through further training and employment opportunities. For example, placements have already made with CH&CO's teams at the Law Society, ZSL London Zoo and Gray's Inn.
Andrew Merrett, Marketing & Communications Director, CH&CO, said: "It's been amazing to work with the Prince's Trust on the Get into Hospitality with CH&CO programme. People are at the heart of a successful hospitality business and we have a duty to invest in the development of future generations of talented hospitality professionals.  The eight young people that took part in the programme are a great example of what people can achieve given the right opportunities, guidance, mentoring and encouragement.  Every single one of them made the most of the experience with fantastic results. The new-found confidence we saw as they spoke at the graduation event was inspiring. They clearly gained so much from the programme and it's been an absolute privilege to watch them grow both as professionals and people in such a short time. We're more than happy to welcome them into our team and we look forward to watching them and their careers continue to grow."