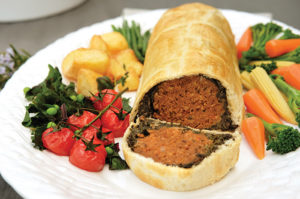 Wrapped in golden pastry, this vegan bake is packed with flavour.
Serves: 4-6
Preparation: 25 mins
Cooking: 1 hour 15 mins
INGREDIENTS:
For the pastry:
500g vegan puff or shortcrust pastry, in a block
Flour, for rolling out
For the inner filling:
50g sun-dried tomatoes (oil reserved), drained and chopped
1 onion, chopped
300g cooked chestnuts, mashed
400g tin butter beans, drained and mashed
2 tsp fresh thyme leaves, chopped
50g ready-to-eat prunes, chopped
1 tsp mild curry powder
100g chopped mixed nuts
Salt and pepper
For the outer filling:
400g mixed mushrooms, chopped
2 cloves garlic, finely chopped
2 tsp soy sauce
200g frozen spinach
1 lemon, juice and ½ zest only
To glaze:
2 tbsp soya milk
Method
Preheat the oven to 180°C/gas mark 4. Roll out the pastry on a lightly floured surface to a rectangle measuring 40cm x 30cm. Cover and refrigerate until needed.
To make the inner filling, heat a little of the sun-dried tomato oil (save some for later) in your largest frying pan and gently fry the onion for 5 minutes. Add the remaining inner filling ingredients, except the seasoning, and cook for another 10 minutes over a low heat, stirring often. The mixture should be fairly dry and hold together. Season to taste and set aside to cool.
To make the outer filling, use the rest of the tomato oil to fry the mushrooms and garlic for 5 minutes. Add the soy sauce, spinach, the lemon zest and juice. Cook for 10 minutes, or until all of the moisture has evaporated. Allow to cool.
To assemble the Wellington, line a baking sheet with greaseproof paper and transfer the pastry to it. With the long edge facing you, use the back of a table knife to lightly mark the pastry in half horizontally, giving two long rectangles. Place the inner filling in the top rectangle, leaving a 3cm border around the edges, and form it into a sausage shape. Pat the mushroom and spinach layer all over the filling to form the outer filling.
Brush the pastry borders with a little water. Fold the lower half of the pastry over to enclose the fillings and press all around to seal, then crimp the ends with a fork. Brush with the soya milk and bake for 45 minutes or until golden.
Note: This can be baked and chilled for up to three days or frozen for up to three months. If frozen, allow to thaw and then thoroughly reheat.