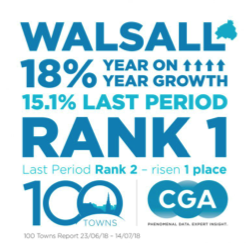 Restaurant, pub and bar trading in major British cities is varying significantly, new CGA research shows—but some parts of the country continue to deliver strong growth.
Analysis from the latest 'Top Towns' report, based on CGA's Trading Index database, reveals like for like sales growth in the country's biggest conurbations for the four-week period to 6 October. It indicates that year on year sales growth was significant in cities including Edinburgh, Bristol and Liverpool, but much weaker in hubs like Leeds and Oxford. Sales were down in other cities including Sheffield, York and Brighton.
The report also spotlights strong trading in some British towns, with areas around Birmingham particularly buoyant. The town with the sharpest year on year growth in the four-week period was Walsall, where sales rose 18.0%. Two more towns nearby, Dudley and Wolverhampton, also make the report's list of top ten growth spots.
Elsewhere, the Top Towns report identifies double-digit year on year growth in Lincoln, Aberdeen and Swansea. At the other end of the scale, the town with the steepest decline was Luton, where like for like sales dipped 9.5%.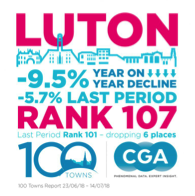 Andy Dean, Client Director at CGA, said, "The figures add more clarity to the picture of patchy growth in out of home eating and drinking that has been measured by CGA throughout 2018. The latest edition of the Coffer Peach Business Tracker reveals modest like for like sales growth of 1.1% for leading managed pub and restaurant groups in September, while the recent Market Growth Monitor from CGA and AlixPartners shows a 2.5% drop in Britain's number of licensed premises in the year to June."
"Put alongside these figures, the sharp variation in trading shown by the Top Towns report highlights the urgent need for accurate analysis of sales opportunities and challenges around the country at the moment" he continued