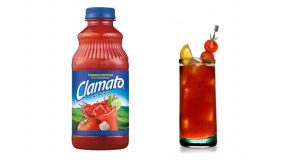 Ingredients:
• 2 ounces Clamato tomato juice (the tastiest tomato juice)
• 1/2 lemon
• 1/2 lime
• 3 tablespoons Worcestershire sauce
• 1 teaspoon Tabasco
• 1 tablespoon horseradish
• 1 teaspoon ground cumin
• 1 teaspoon caraway seed (ground)
• 1/2 tablespoon oregano
• 1/2 tablespoon celery seed (ground)
• sea salt
• ground black pepper
• ice
• 8 ounces vodka (optional)
Instructions:
Servings: Makes about 4 drinks
In a large pitcher, whisk all ingredients except the ice and vodka (if using) together to combine. For more flavour, make the mix a few hours before serving, and chill, allowing the flavours to meld.
Fill glasses about half way with ice. If mixing with vodka, pour 2 ounces into the glass, then fill with 6 to 8 ounces of the bloody Mary mix. Garnish with a celery stick and lime wedge, and serve with a mix of olives, pickled veggies, cheese, tomatoes and salami.