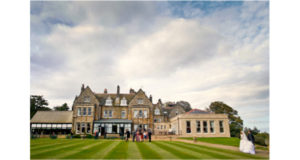 Four hotels within the Classic Lodges group have been shortlisted in the North of England Wedding Awards 2018: The Old Swan Hotel in Harrogate for Best Venue (City); Solberge Hall Hotel in Thirsk; Bagden Hall Hotel in Denby Dale; and Grinkle Park Hotel in Easington for Best Venue (Country).
The awards are run by The Wedding Guide UK, and recognise businesses that go the extra mile for their customers, providing outstanding service and inspiring their customers to want to actively and positively promote them.
Businesses are selected from testimonials and feedback from their own newlywed customers, adding to the prestige of the award. They are then judged by professionals to decide the winners, that will be announced at the Gala Awards Dinner on the 17th September 2018, at the York Racecourse.
Hundreds of companies enter each year, with only 13 shortlisted in the Best Venues (City) category, and 15 in the Best Venues (Country) category.
Richard Smith, Director of Marketing and Partnerships at Classic Lodges, says this is a reflection of the hard work of all the wedding teams at the hotels: "We have an incredibly strong weddings offering, and are always looking for new ideas and approaches to ensure their continued success.
"We are proud of the superb customer service efforts of all our staff, before, throughout, and after each special occasion. We strive to offer the best wedding experience possible at every event."