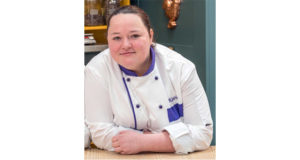 Katie Churchard, who is a lecturer in catering and patisserie at Cambridge Regional College, recently took part in the third series of Bake Off: The Professionals and was broadcast into the homes of millions.
Previously known as Bake Off: Crème de la Crème on BBC One, the show is now presented by Tom Allen and Great British Bake Off alumni, Liam Charles. The judges on the Channel 4 show remain decorated Chefs Benoit Blin and Cherish Finden.
Katie, along with her purple team partner Kelly and some rival contestants, were tasked with putting a new spin on the classic Eton mess while also attempting to perfect some miniature classics. Despite some intense competition and a nerve-jangling chocolate teacup breaking incident, Katie and Kelly progressed as far as the second heat of the competition.
Katie has worked at Cambridge Regional College for 7 years. She started out as a Hospitality Trainer moved into the role of Chef Assessor and was then promoted to Chef Instructor.  On the Channel 4 programme, Katie represented the Wi Cookery School, a business she has close ties to and where she teaches occasional classes.
Katie trained as a pastry chef at Thames Valley University and has worked in Michelin starred restaurants and 5-star hotels across the UK and Europe.
Speaking about her role at Cambridge Regional College, Katie said, "I have never been good at art, but I like to create art work with food and I love to play with flavours and think outside the box. I love showing new and creative skills to learners and seeing the expression on their faces when they have created something amazing".
Lucy Kaye, Head of Department – Service Industries at Cambridge Regional College, was delighted to see Katie taking part on Bake Off, she said, "Everybody at Cambridge Regional College is really proud of Katie and her achievements. Our students are incredibly lucky to be learning from a wonderfully talented Chef like Katie and it can only be beneficial to their own career aspirations to have her as a role model to follow".
This isn't the first time the catering branch of Cambridge Regional College has been making headlines this year. As part of hosting the recent Passion to Inspire finals, BBC Radio Cambridgeshire reporter Ben Stevenson visited the Cambridge campus and was challenged with making an omelette against CRC student (and Young Pastry Chef of the Year 2018 Awards runner-up) Charlotte Ginn live on-air.