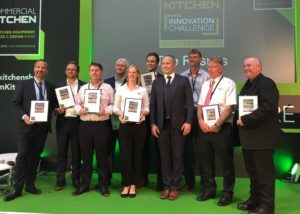 New innovations by Adande Refrigeration, Carpigiani UK, Synergy Grill, Trak, and Unox UK scored top marks with the judges at Commercial Kitchen today. All five were awarded Gold in the show's prestigious Innovation Challenge Awards, which recognises the best new catering equipment and kitchen tech of the year.
Ten finalists (chosen by popular visitor vote yesterday from 25 entries this year) took turns to impress the judges in the live pitching session this morning.
The full results also saw two companies receive silver awards and three take home the bronze.
The results
Gold:
Adande Refrigeration: Aircell Sarma Grab & Go Cabinet
Carpigiani UK: Freeze&Go
Synergy Grill: Synergy Grill Mark 2
Trak: Hot and Cold Display Unit
Unox UK: EVEREO by Unox
Carpigiani UK: Freeze&Go
Silver:
Environmental Products & Services: FilterShield FS1500
General Catering: ROG Grill
General Catering – ROG Grill
Bronze:
Retigo: Hold-o-mat
Shepherd Filters UK: Shepherd Filters
Target Catering Equipment: Target Bespoke Induction Range
Shepherd Filters UK – Shepherd Filters
This year's judges included Mark Teed, food strategy & implementation manager at Star Pubs; Antony Bennett, head of food at Loungers, Sarah Fryer, purchasing manager at Greene King; Craig Brookfield, kitchen design & equipment manager at Greene King; Abby Hughes, group food & beverage director at Kew Green Hotels; Jack Sharkey, MD of Vision Commercial Kitchens; Tyron Stephens-Smith, project & creative director at TAG; Philip Shelley, immediate past national chair of the Hospital Caterers Association; Roger Denton, national secretary of NACC; and Andy Jones, chair of PS100 & MD of AJAssociates.