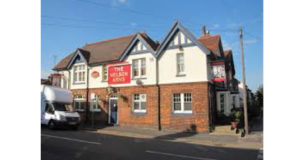 A popular Tonbridge pub has been saved from developers with the help of its locals – and a philanthropic prize-winning pub landlord.
Pints have been pulled this month at The Nelson Arms, in Cromer Street, Tonbridge, – the first time since February 2017 – when Kent brewer Shepherd Neame shut its doors.
Locals clubbed together to try to save the two-storey pub being sold off for housing, claiming it was an asset of community value.
But when CAMRA-acclaimed pub landlord Matthew Rudd heard of the residents' plight, he stepped in and offered to help.
Matthew and his partner Emma Cole have been licensees of the hugely popular Windmill at Sevenoaks Weald for the past six years – another pub they rescued from closure.
They now hope they can breathe new life into the Nelson, as they have done at the Windmill, whilst expanding their pub portfolio.
In the past few weeks, the couple have worked furiously to improve the Nelson's interior, replacing floors and ceilings and adding walls and pillars to create three distinct bar areas – a saloon bar, all-purpose bar and a sports bar, featuring a 2.5-metre HD screen and surround sound, plus juke box.
Matthew, 53, said: "Tonbridge has always been a busy town and this is a great community pub, in a great location close to the shops and the station. There is a real buzz about the town at the moment and we are delighted to become a part of it."
Matthew said: "The Nelson Arms has historically been more of a drinkers' pub and we see no reason to change that – apart from improving the offering. We plan to have quiz nights, comedy nights and live music – but focus primarily on the quality of the ales."
Matthew's pubs have won a CAMRA award every year for the past nine years, both in the Maidstone and Mid-Kent and West Kent regions, the high spot being in 2014 when the Windmill made it through to the national finals of the CAMRA Pub of the Year contest.
Matthew said: "There's not much we don't know about real ales and good beer and believe the Nelson Arms is the perfect location to bring this kind of quality offering to Tonbridge."
He paid tribute to Mark Hood and the Barden Residents Association who had fought to retain the building when developers planned to move in.
Matthew said: "This is such a part of Tonbridge's history that it would have been a shame to close it down. Thankfully, largely due to the residents themselves, we have been able to take on the pub and re-open it for the purpose for which it was intended!"