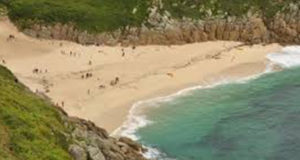 Cornwall is "struggling to cope" with "unparalleled mass tourism" this summer, according to reports.
Visit Cornwall, the county's tourist board, said it had stopped promoting two beaches because of problems caused by overcrowding.
Porthcurno beach and Kynance Cove, traditionally quieter beauty spots, have seen an influx of visitors after social media promotion, it said.
Malcolm Bell, boss of Visit Cornwall, said: "Nobody wants to see this sort of mass tourism affecting the area, affecting the tourist experience and clogging the roads."
He said that he wanted a "redistribution" so that areas that needed more visitors were promoted more heavily, especially on social media.
Mr Bell told the BBC that visitor numbers were about 20% up on the usual 4.5 million visitors per year thanks to the prolonged good weather.
He added: "Air bnb has gone ballistic, so we've had about an extra 20,000 visitors from that every day – and when the weather is like this often relatives will come down and stay. "It's funny, you would think a tourism board would be over the moon at having lots of visitors but we don't want local communities up in arms. We want visitors to have a good experience and return."
He acknowledged the irony of a tourism boss trying to drive down visitor numbers.
"Poldark has been the catalyst," he said. "We are in a fortunate position but we don't want to be a destination that people go to once and don't return. We want people to come back.
"The danger is that the car parks get full so no one can get parked, the footpaths get damaged, the litter bins can't cope with the rubbish and the locals can't get anywhere because the roads are so congested. So we end up with frustrated visitors and really frustrated locals. That's what we want to avoid. This is a sustainability issue."
Asked what the local businesses might make of the tourist board's strategy, Bell said: "It's many of the businesses who have been asking for this."
He said that campaigns would try to "redistribute" tourists from Kynance Cove on the Lizard peninsula, which has featured in Poldark, Porthcurno, near Land's End, and the beach near by at Pedn Vounder. Visitors would be encouraged to go to places such as Looe and Coverack, where they would be "welcome".