Staff shortages continue to plague the UK hospitality industry, with little sign of improvement on the horizon.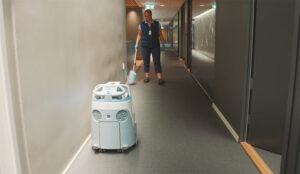 Triggered by Covid lockdowns and compounded by Brexit, the shortage of workers is forcing many restaurants to restrict trading hours, and hotels to leave rooms uncleaned on certain days a week.
According to trade body UKHospitality, vacancies remain 48% higher than pre-Covid.
The organisation's chief executive Kate Nicholls said: "The workforce shortage is creating a serious crisis. Nearly half of businesses are reducing trading hours per day, and a third are having to close on some days each week."
So what is the answer to the recruitment headache facing the UK's hotels and restaurants? How about making a robot (or "cobot" to give them their more apt moniker due to their collaborative work alongside humans) your newest recruit?
Softbank Robotics general manager Stefano Bensi explained: "With a cobot on hand, menial and time-consuming tasks are taken care of autonomously. Staff have more time to concentrate on higher-value, more intricate jobs like touchpoint cleaning (in the case of a robotic vacuum cleaner) or spending more time with customers (in the case of tray delivery robots).
"We know that in the hospitality industry it's a real struggle to recruit and retain staff: robots can help add additional support to existing teams, plug labour gaps and shortages, and work when necessary to improve processes."
Softbank's cleaning robot Whiz can memorise up to 600 cleaning routes, vacuum 1,500 sq m of carpet on a single charge, and be programmed to clean at any time of day
It is equipped with a 3D camera and a lidar (light detection and ranging) system – the same kind of technology used in self-drive cars.
Rather than taking the human interaction aspect away from restaurant service, Softbank's tray delivery robots simply look after the "bussing" side of the job (bringing and removing dishes), meaning staff are present in the dining room at all times and able to respond quickly to customers' needs.
Bensi said: "Because the waiter isn't constantly going to and from the kitchen, stuff just happens: customers can order that extra bottle of wine, a side, a pudding, and suddenly you have the average price per sitting going up, and the table turnaround time going down, because when the customer is ready to ask for something it can happen straight away."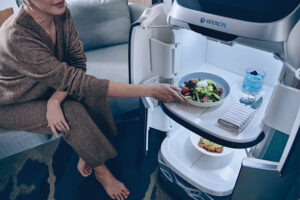 For hotels offering room service, Softbank's W3 robots can be programmed to integrate with the lifts and will call the guest to alert them once their order is outside their door.
It's true to say that many hotels and restaurants adopted technological aids to help them through the pandemic, with operators forced to adopt automated methods to keep guests and staff safe.
Could it be the time has come for operators to recognise that technology isn't limited to helping with bookings, ordering and payments? Perhaps it could also provide hospitality businesses with new team members – and quite possibly help them stand out from the competition too.
To find out more, visit https://emea.softbankrobotics.com/