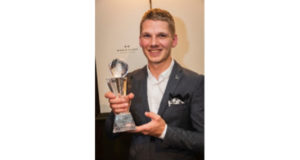 Diageo Reserve's World Class Bartender of the Year 2018 GB final took place in Scotland last night (June 19), where Daniel Warren from Last Chance, Nottingham was crowned the winner of this year's competition.
The two-day final kicked off with a day of trials in Edinburgh, followed by a second day of challenges at the world-renowned Gleneagles Hotel.
The first challenge took place in a penthouse apartment at the newly opened Edinburgh Grand Hotel. Designed to test the bartenders' hospitality skills and their ability to create a welcoming experience, competitors were required to create the 'Perfect Welcome Cocktail' and experience using a base of Ketel One Vodka, Tanqueray No. TEN or Don Julio in any style, with only five minutes to prepare for the presentation and five minutes to present to the judges.
On day two, the top ten were invited to join Diageo Brand Ambassador Ali Reynolds at the Shooting Lodge on the Gleneagles estate, to test their skill in creating a perfectly balanced smoked cocktail using and highlighting the smoky notes of Johnnie Walker Black Label.
A challenge pack was sent to the finalists' home bars ahead of the competition, to serve as inspiration for the integration of smoke into the challenge. They were then asked to pre-prepare one smoky cocktail, in a 'ready to go' hipflask, which they brought with them to Scotland. On the day of the challenge the competitors presented and served the cocktail back to the judges, with an inspirational tale to describe how it had been created.
The final challenge, 'The 19th Hole' took place at The Gleneagles Hotel in the Auchterarder 70 Club House overlooking the Queen's Golf Course. The competitors were asked to imagine they had just been appointed as the new bar manager at the venue and were tasked with creating the new Club House signature drink, inspired by the rich legacy of the famous golfing institution, all during their first 10 minute 'shift'.
Finalists were given five minutes to prepare their station before their shift started and 10 minutes to present to the judges, during which time they were judged on how well they entertained and hosted guests as well as the judges. The finalists were required to create two full serves for the judges at the bar, and 15 sample sized versions for the guests, whilst simultaneously taking orders from customers from a bespoke World Class Classics Menu which included: Tanqueray No. TEN and tonic, Zacapa Daiquiri, Don Julio Margarita, Ketel One Dutch Mule and Johnnie Walker High Ball.
Stephen Martin, Diageo World Class GB Manager commented: "World Class is all about fantastic hospitality, exceptional knowledge, skill and creativity, and Daniel has it all. He really inspired us, brought his own style to the competition and engaged everyone involved, not just the judges. We're really proud of Daniel and can't wait to see what he will bring to the global final in Berlin.''
Diageo Reserve World Class GB Bartender of the Year 2018, Daniel Warren, added: "I never imagined I'd be crowned the winner of this year's 2018 World Class competition, it's a dream come true and I'm so incredibly happy. It has been an absolute whirlwind and it all feels very surreal. It's such an honour to of been able to work with so many talented bartenders, judges and brand ambassadors. This year's competition has been tough, the challenges really tested my technical abilities as a bartender and also my hospitality skills and it's not over yet! I can't wait to see what the Global Final in Berlin brings, I'm counting down the days until I can do it all over again and represent my country!"
The 2018 Diageo Reserve World Class Bartender of the Year prize package includes:
Nationwide media exposure & dedicated PR for the World Class GB Winner & their bar throughout the year
A 12-month contract worth a minimum of £5,000 to tour with the World Class team hosting workshops & bartending at high profile & prestigious events throughout the UK
Fly to Schiedam for an exclusive 2-day Culinary Experience with a mystery Chef at the Ketel One Distillery
A two-day Malts Advocate Course in Scotland with Whisky Gurus Dave Broom or Charles MacLean
Be part of the World Class Bartender Exchange and travel to three European countries to guest bartend behind some of the World's Best Bars
A £300 voucher for a personalised Cocktail Kingdom Kit
Professional signature serves & profile photo shoot with top industry photographer
And finally…Represent GB in the World Class Global Finals 2018 in Berlin for a once in a lifetime experience